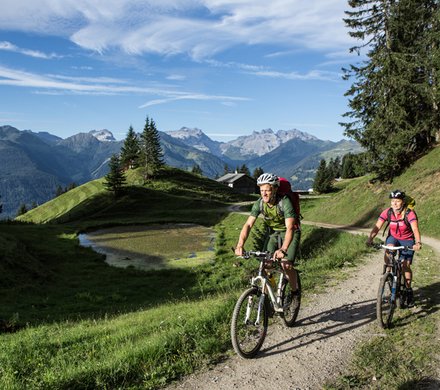 Mountain biking in the Montafon Valley
Holidays are for relaxation and letting go of all stress. This is best achieved by providing holidaymakers with wonderful moments: trips to places with exceptional views which not every biker finds or an extended lunch on a quaint Alpine pasture.
New in the region:
Discover the Montafon Valley with the bike app MAPtoBIKE ! Track your tours and win a cool t-shirt on the Montafon Peaks Treasure Hunt.
Biking for connoisseurs
Clear ground for mountain bikers at the Alps' main ridge. The Montafon Valley is a paradise for mountain bikers. A route network stretching across 270 kilometres entices mountain bikers and E-mountain bikers to discover the Vorarlberg Valley, the mountain world surrounding the peaks of the Rätikon, Verwall and Silvretta mountain ranges, on two wheels. This bike-leisure region offers everything from easy tours on pleasant hiking trails to challenging downhill routes across interlinking trails with carrying passages. If the energy in your family or bike group isn't evenly distributed and the fitness levels vary a lot then it would be best to choose an intermediate tour in the Montafon Valley, for example the Ganifer Tour. On request, mountain bikers are also welcome on this tour. There are also special family tours and combo-tours which include the gondola cable car.
Tour & Trail

"Tour & Trail" means more outdoor fun with experts during "Mountain Bike Holidays". Guided tours provide more adventure, more safety and more competence and are the forte of "Mountain Bike Holidays".

Bike tours in the region

Route highlights:

Itonskopf Tour (single trail tour)
Mountain range tour (MTB tour)

Bike transport services

Bike transport services in the valley
Buses:
Bike transport on public bus services in the Montafon Valley is available during the summer months.
Price: € 7.00 for a day ticket
Attention: The transport of E-bikes is not permitted!

Bike transport service to the Vermunt dam wall (continue by MTB to the Silvretta-Bielerhöhe Pass)

Replacing the train services of the Vermunt Railway, a mountain bike transport service from Schruns to the Vermunt dam wall is available during the summer months 2016 and 2017 if required.
Departure: 8:30 am from Schruns train station (other stations)
Transport facility for max. 20 bikes
Pre-registration required: info@montafon.at or +43 50 6686

Price: € 11.00 for adults, € 7.00 for children
In connection with the Montafon-Silvretta-Card: € 7.00 for adults and € 5.00 for children

Bikeguiding

MountainsPLUS
The biking holiday in Montafon is in full swing with MountainsPLUS. Professional guides accompany you from relaxing leisure tours, also by E-bike, to challenging summit conquering tours from spring until autumn. Snappy challenges for bikers and E-bikers are available six days a week during the summer months. The many MountainsPlus inclusive services also offer, for example, a free of charge E-bike map.

» Here are the guided MTB tours of MountainsPlus

The guides
Hardly anyone knows the Montafon bike trails better than the two guides Markus and Michael. They explore with the guests the most attractive and most beautiful trails if they are not at a MTB competition themselves. Packed with many little stories, Markus and Michael know how to make the tours an unforgettable experience. These passionate bike guides are out and about in the most southern region of the Vorarlberg as part of the guest programme MountainsPlus from mid-May until end of October. They can also be booked for individual private tours. Further details on www.montafon.at/biking

Markus Fessler-Jenny (qualified trainer)
Particularities: likes long day tours
Strong points: Due to his extensive experiences as a trainer, no one knows better how to use "little tips" to communicate safety to the guests. Also much appreciated by the guests is his friendly nature and his extensive knowledge about the region.

Michael Boll (a Montafon original from the Silbertal and a "racer")
Particularities: very fit
Strong points: Michael has a special flair for accommodating the wishes of the guests. His authenticity as well as his attachment to the valley delights the guests.

Bike shops, hire & service

Bike hire in the Montafon Valley
Mountain bikes, E-mountain bikes, bikes for children as well as bike trailers are easy to hire throughout the region.

Events & Camps

Whether you are well trained and take part yourself or you prefer to be a spectator along the route and cheer on your favourite, here you will find all details about MTB events in the region.

Easy & e-MTB

Panoramas instead of metres in altitude, nature's delight instead of aching muscles, Brettljause (lunch with cold meats, sausages, cheese) instead of energy drinks; "Easy & E-Bike" is the "Mountain Bike Holidays" offer for MTB-beginners, leisure bikers, E-bikers and the entire family.

Easy bike tours in the region

Route highlights

Kristberg Tour (E-MTB tour)
Ill Tour (E-MTB tour)
Alpe Nova Tour (E-MTB tour)

e-MTB

Tailwind instead of headwind! Thanks to the help of a small electric motor is the mountain world around the peaks of the Rätikon, Verwall and Silvretta mountain ranges now also accessible for untrained mountain bikers. Bikers who prefer a more leisurely pace make use of the flourishing tailwind.

The Montafon Valley is also a pioneer region for the Vorarlberg E-bike network project "From Lake Constance to Piz Buin". All details about the Vorarlberg E-bike network can be found on  www.ebike-vorarlberg.at.

eBike tours in the Montafon Valley
The BergePLUS programme offers various guided E-bike tours. MTB tours marked with *can be discovered by E-mountain bike as well as by mountain bike.
» Registration

eBike hire in the Montafon Valley

Bikeguiding

MountainsPLUS
The biking holiday in Montafon is in full swing with MountainsPLUS. Professional guides accompany you from relaxing leisure tours, also by E-bike, to challenging summit conquering tours from spring until autumn. Snappy challenges for bikers and E-bikers are available six days a week during the summer months. The many MountainsPlus inclusive services also offer, for example, a free of charge E-bike map.

» Here are the guided MTB tours of MountainsPlus

The guides
Hardly anyone knows the Montafon bike trails better than the two guides Markus and Michael. They explore with the guests the most attractive and most beautiful trails if they are not at a MTB competition themselves. Packed with many little stories, Markus and Michael know how to make the tours an unforgettable experience. These passionate bike guides are out and about in the most southern region of the Vorarlberg as part of the guest programme MountainsPlus from mid-May until end of October. They can also be booked for individual private tours. Further details on www.montafon.at/biking

Markus Fessler-Jenny (qualified trainer)
Particularities: likes long day tours
Strong points: Due to his extensive experiences as a trainer, no one knows better how to use "little tips" to communicate safety to the guests. Also much appreciated by the guests is his friendly nature and his extensive knowledge about the region.

Michael Boll (a Montafon original from the Silbertal and a "racer")
Particularities: very fit
Strong points: Michael has a special flair for accommodating the wishes of the guests. His authenticity as well as his attachment to the valley delights the guests.

Bike transport services

Bike transport services in the valley
Buses:
Bike transport on public bus services in the Montafon Valley is available during the summer months.
Price: € 7.00 for a day ticket
Attention: The transport of E-bikes is not permitted!

Bike transport service to the Vermunt dam wall (continue by MTB to the Silvretta-Bielerhöhe Pass)

Replacing the train services of the Vermunt Railway, a mountain bike transport service from Schruns to the Vermunt dam wall is available during the summer months 2016 and 2017 if required.
Departure: 8:30 am from Schruns train station (other stations)
Transport facility for max. 20 bikes
Pre-registration required: info@montafon.at or +43 50 6686

Price: € 11.00 for adults, € 7.00 for children
In connection with the Montafon-Silvretta-Card: € 7.00 for adults and € 5.00 for children

Bike & Family

Special tours for the entire family are offered as part of the MountainsPLUS programme during the summer months.

Mountain bike tours:

Forest Tour – short tour with approx. 300 metres in altitude for children aged 8 and over
Technique Tour – short tour with approx. 350 metres in altitude for children aged 14 and over
Verwall Tour – all-day tour with approx. 400 metres in altitude for children aged 14 and over (also available as tour by E-bike)
Silvretta Bike Safari – all-day tour with approx. 550 metres in altitude for children aged 14 and over
Gauertal Valley Tour – half-day tour with approx. 900 metres in altitude for children aged 14 and over
Trail Rider Tour – half-day tour with approx. 950 metres in altitude for children aged 14 and over
Depth Metres Tour – short tour with 0 metres in altitude and 1.150 metres in depth for children aged 14 and over
Single Trail Tour – all-day tour with approx. 1.300 metres in altitude for children aged 16 and over
Sonnenkopf Tour – all-day tour with approx. 1.350 metres in altitude for children aged 16 and over

 E-bike tours:

River Ill Tour – approx. 250 metres in altitude for children aged 14 and over (all day)
Hydro Power Tour – short tour with approx. 350 metres in altitude for children aged 14 and over (tour also available by MTB)
Leisure Tour – approx. 500 metres in altitude for children aged 14 and over (half-day)
Alp Tour – approx. 950 metres in altitude aged 14 and over (all day)
Lake Fritzensee Tour - approx. 1.000 metres in altitude for children aged 14 and over (half-day)
Kristberg Tour – approx. 1.100 metres in altitude for children aged 14 and over (all day)

Children's bikes and bike trailers for hire:

Intersport Montafon
Children's bike up to the age of 14: 1 day € 14.50; 2 days € 29.00; 3 days € 43.50
Bike trailer 1 day € 15.00; 2 days € 30.00; 3 days € 45.00
Children's helmet for bikes up to the age of 14 - free of charge

Booking required.

Pure Mountain Equipment
Sports Shop Gargellen

Children's bike: € 14.50 per day, includes helmet
Post an enquiry

Dear mountainbike-friend,

Thank you for your request. The request has already been forwarded to the hotel.The hotel will contact you directly regarding your holiday-wishes.

Kind regards,

Your "Mountain Bike Holidays" Team