Discover the Salzkammergut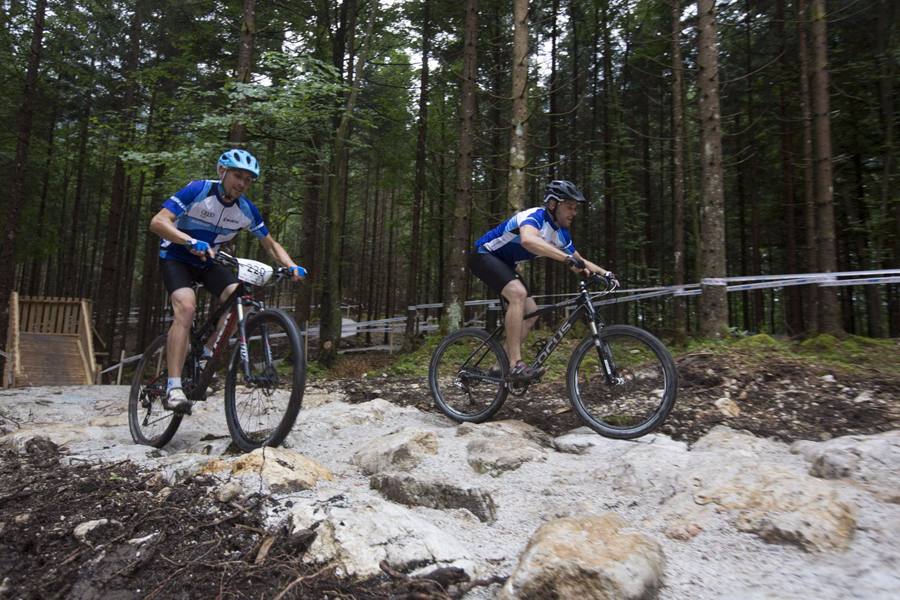 In the Salzkammergut the natural environment and its experience is always most important, but also the training of technique doesn't fall short of one's expectations. You can perfectly combine relaxed day tours with training sessions in the Bikearena and enjoy your holidays to the fullest.
We already know that there are 76 lakes at the Salzkammergut. The chances to cycle past a different lake at each tour is a 100 % und couldn't really surprise a Salzkammergut-tourist.
But our bike guide HELMUT did surprise us after all…
Today's tour leads us to the Ausseerland – gentle climbs, gravel forest roads are awaiting us – past the Sarstein and the Krippenstein– until we reach the film location of "James Bond". Today the lake looks mystical, although the sun is shining and we refresh our legs in the cool, clear mountain water.
We cycle through the valley "Koppental" along the river Koppentraun.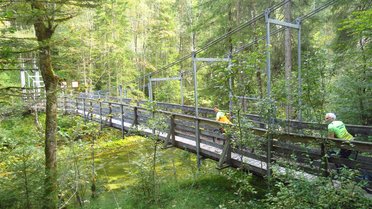 A highlight was the suspension bridge yet we couldn't linger because Helmut promised us a trip to the BIKEARENA. There we can improve our techniques on Singles, Trails, in the Rock garden and on Northshore trails …. FORTUNATELY we don't have to master all of it, but the two hours of technique training that Helmut planned for us show us the limits of our strength and stamina.
Helmut was right – a whole day of a challenging technique training would have been too much – we better combine a ride through the Bikearena with a nice day tour but more often than once in our holiday.  
Actually I am all run down – the path along the lake Hallstättersee, as beautiful as it is doesn't really appeal to me today – I try to convince Helmut to take a ship over the lake on our way back.
At the ship location – the highlight of MY holiday - a friend  of our bike guide took us with him.