Hotel Hasenauer - Downhill-Action at Hochalm trail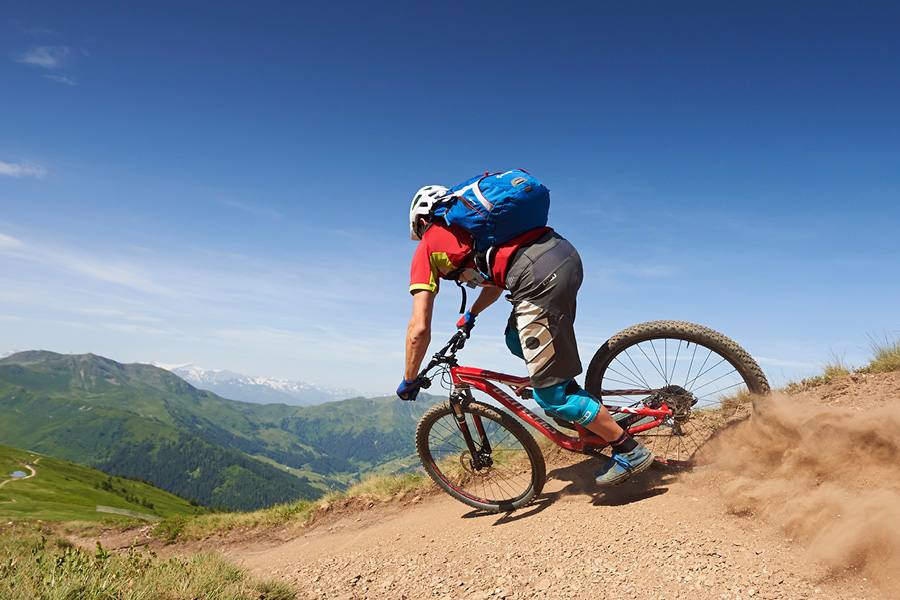 Serpentines, turns, rock- and root-zones, puddles and mud - all that turns a downhill tour into a great experience. All that combined with amazing landscapes and an incomparable view the downhillers from Hotel Hasenauer experienced.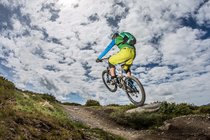 For bringing us into the right mood a nice and comfortable tour with Fritz from Hotel Hasenauer was planned yesterday. But because we are downhill bikers, today we're ready to rock!
We picked the Hochalm trail, one of the top 10 trails at Bikecircus Saalbach Hinterglemm. After a tasty sportsman breakfast we packed up our stuff  - equipment, energy packages and Co. – and were looking forward to the 1000 elevation gain waiting for us. Directly from the hotel we started towards valley end and afterwards to Pfefferalm up to the mid-station of Reiterkogel rail.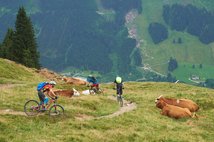 A few straights and turns later we arrived at the highest point of the tour – the mountain station of Spieleck drag lift. We drove on to the Spieleck peak, because of the magnificent panorama and of course because we absolutely needed a summit cross selfie. The view around was truly gigantic and really worth all the effort. Back down to the valley we took the Hochalm trail – an almost never-endling downhill trail through the picturesque landscapes of the mountains of Pinzgau. With its ground loops, stream crossings, turns and small root- and rock-zones the trail includes everything a downhillers heart desires.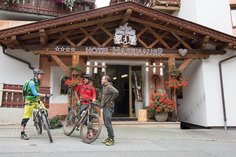 From time to time it's also fun to just cross some puddles and mud, enjoying the splash and getting dirty :-) Thank god we're bikers and don't care about such details and due to Hotel Hasenauers laundry service tomorrow our shorts and shirts will be clean and tidy again and will be ready for the next exciting trail at Bikecircus Saalbach Hinterglemm. But for now we enjoy the refreshing pool and the sunshine.
Pure summer feeling!