What has toilet paper advertising to do with mountain biking?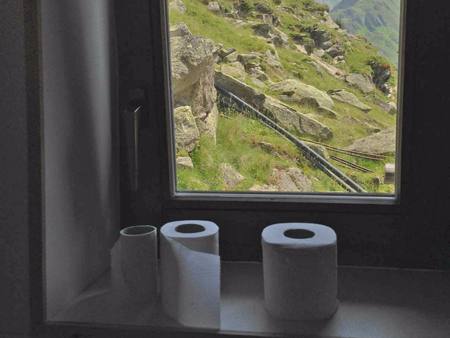 You surely know the advertising, where toilet paper on the tablet is pushed under the door. The tablet as all-rounder cannot all in the important moments …

It feels like you would boost towards heaven. The view makes you speechless … or is it the effort after all? In the distance you can see some huts and so you think you are at the finish. But you are taught something better: only huts with a flag are open. In this case: none! You are a little bit disappointed, but you take the next steep section with serenity.
And then: finally a hut with a flag in an unbelievable hillside.
The table legs are unequal in length and the seats are skew. You are excited. A view towards the valley: the trail meanders like 100 "z" along the mountain.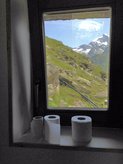 You are looking forward to the descent. But now you sit down on a bank and order a big drink and a suitable dish. Then you have to go to the toilet and also there everything is skew. You open the door and … that's no photo wallpaper, that´s reality! A toilet with glacier view and on the sill there is enough toilet paper.
You remember the toilet paper advertising on the tablet and you are lucky, that you need here nothing and least of all a tablet.