Wenn die Puppen tanzen….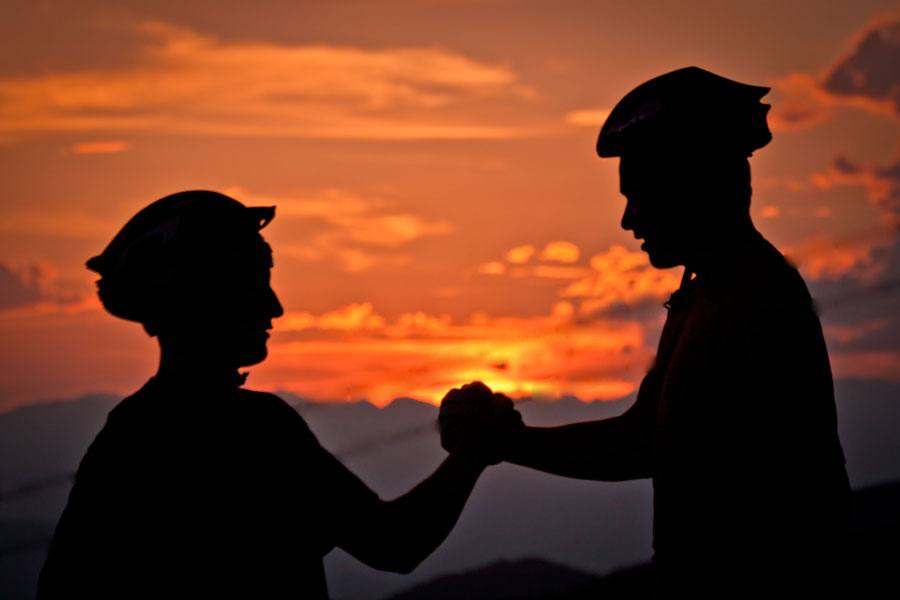 Just before the first rooster is roaring – besides the one from the Marica zoo – we are stalking closer.
Nobody else could do it as quiet and unnoticed as we do it on our bikes. The sun has not yet totally emerged and we are sure that we are on time. We thought that we are alone, but just a few meters ahead something is moving. We immediately stop and listen – a group of red deer stopped and turned their beautiful antlers in our direction. What a fascinating scenery! Unfortunately, the pack gets insecure and disappears within a few seconds. Anyway, we have to keep going to arrive punctually at the place where the Venice hid his treasure. Now we have to really start pedaling. There it is – this incredible place under the Latemar directly in the wonderful Dolomites.
According to a legend, in earlier times shepherds were allowed to take a doll out of the treasure of Venice. They were greedy and not satisfied with the offered dolls. What happened? With a big bang, they got fossilized and stayed here since then. Except for the moment when the first sunlight of the day hits them. Then…
Now when the first sunbeams come up and hit these bizarre figures we can see how they stand in row and how their silken clothes breeze in the soft light – the figures seem to dance.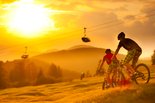 This magic moment only lasts for a moment, because the sun is rising and this brings us back to reality. Not bad at all – a magnificent trail is waiting for us and our bikes. The romantic part is over now. Boisterously we try a few jumps and start into the downhill: A varied and exciting trail brings us down to the language boundary in the Ladin Fassa valley.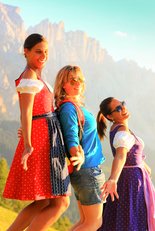 Ladin was also the saying of the children who made the Doge of Venice angry: "Pope de preda con strazze de seda ste lí a Vardar el Latemar!" which means: "Dolls of stone with silken clothes, stay there and look at the Latemar!"
The moral of the story: Let the dolls dance, but do not make the Venice angry!