"Kaiserschmarrn" – The new favourite meal of our guests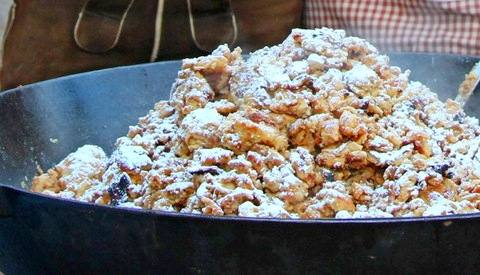 Bon appetit, Felix
Gourmet tour: This is how we call at "Tauernhof" our tour with only few meters of elevation gain and numerous calories. The goal is not to burn as much calories as possible, we rather strive to intake calories in the most enjoyable way possible: The sporty way!
With this tour, my small and committed bike group and I – Lukas, bike guide of the hotel Tauernhof – set new standards in the field of "Gourmet mountain biking". After a climb of only 300 metres of elevation gain, Thresi the landlady of the restaurant "Winterbauer" waits with the traditional Austrian dish "Kaiserschmarrn" which comes with a special cranberry jam. This jam is very famous and popular here in the region. The "Kaiserschmarrn" is served by Hansi, the son of Thresi, in a big pan. Felix, one member of our bike group, puts the pan right in the middle of the table and everybody starts to eat out of the big pan, just like in earlier times in the traditional peasant's cuisine.
Elevation gain – As already explained, our main goal is not to climb as much as possible. After another 500 meters of altitude (uphill and downhill combined ;-)) and an hour of pedaling we reach the next stop of our gourmet tour. Rupert the landlord of "Kaswurm", a 450-year-old farmhouse which is now a restaurant, is already waiting for us. We take a seat on a big round table and Christine serves us the next "Kaiserschmarren". Felix is on a mission again and eats the largest part of the big pan including the delicious and caloric crust. We are already wondering if he can still manage it to get on the bike again.
The tour continues and we bike alongside the river Enns to Radstadt where the next short climb starts. The "Moosalm" is not only known for its caramelized "Kaiserschmarrn" but also for its amazing panoramic view. After finishing our third "Kaiserschmarrn" today with have an easy way back to the hotel. After 4.5 hours of gourmet mountain biking we reach our hotel "Tauernhof". My group seems to be all around happy and so we gather for an after-bike drink at the hotel terrace.
One is missing – Felix doesn't join us which is normally not his way. "Oh dear" I think maybe the three "Kaiserschmarrn" where too many for him considering that he was always eating the largest share of the big pans. Then to the surprise of all, Julia our receptionist tells us that we don't have to wait for Felix because he's doing the tour once again. He told Julia that he normally doesn't share food and that he wants to eat the three "Kaiserschmarrn" all alone. In the evening as we are watching a football match of the World Cup, Felix returns. Fully satisfied he tells me "Lukas, now I have really had enough". After a "Vogelbeer Schnaps", a rowanberry liquor, Felix is ready for another bike tour the next day.
Well then, enjoy Felix!
Lukas Stangl, bike guide and head of the sport camp, Bikehotel Tauernhof, Flachau, Summer 2015
Legend:
Kaiserschmarrn: Can be translated into Emperor's mess and is a shredded pancake. The pancake is normally accompanied with "Zwetschkenröster", a fruit compote made of plums. Typically it is also sprinkled with powder sugar.