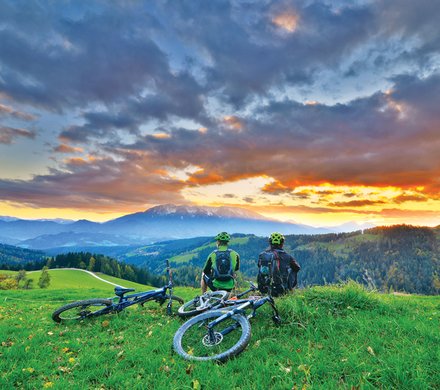 Mountain biking in the Slovenian Alps
Old, abandoned trails, used by shepherds, hunters, soldiers and miners in the past, lead through the beautiful landscape of the Slovenian Alps. Today they are the perfect destination for mountain bike enthusiasts who can choose from a labyrinth of panorama mountain roads, forest paths and epic single trails around the Jamnica Single Trail Park.
Bike highlights in the Slovenian Alps
Underground biking

Over 1000 km of tours in the Karavankas Geo Park

Jamnica Single Trail Park
Alle infos Anzeigen
Mountain bikers will find a very special atmosphere in the Slovenian Alps. The valleys leading through the white limestone mountain ranges are densely covered with forests. Solitary clearings, crystal-clear rivers and glistening lakes – the remainders of the last Ice Age – contribute to the beauty of the pristine landscape. Every tour offers new impressions and turns into an unforgettable experience here.
Ancient alpine farms and huts bear witness to the tradition of this country and take you from the here and now to bygone times just like the underground tunnels of the abandoned mines which are accessible by mountain bike, making this region so special. Lake Bled with its world famous island and the historic Assumption of Mary Church can be admired at the base of the Pokljuka Plateau. Another pearl of nature is Lake Bohinjer, one of Slovenia's most beautiful places and a rewarding destination not only for leisure bikers.
Biketouren - Slovenian Alps
Bike Events - Slovenian Alps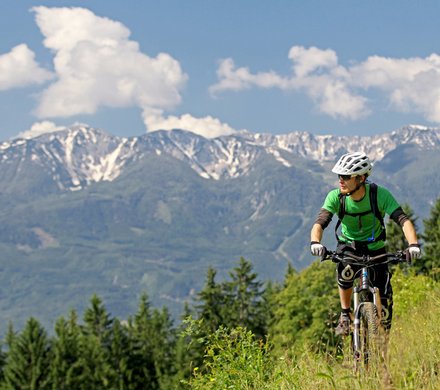 Slovenian Alps
The Slovenian Alps offer an excellent infrastructure of cycling trails. Many roads with little traffic as well as forest and cycle trails offer diverse possibilities for biking and experiencing the unique landscape between the Alps and the Drava river.
Tour & Trail
Enduro & Parks
Bike-Highlights Slovenian Alps
Tour & Trail
Mountain bikers will find much natural beauty in the Slovenian Alps. The labyrinth of forest and biking trails of all levels of difficulty leads through natural valleys and across or even THROUGH impressive mountains. New impressions are waiting behind every bend here.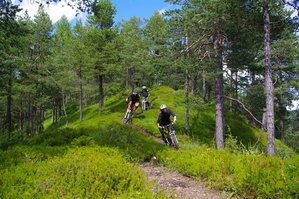 Enduro & Parks
Enduro and freeride fans just love the All Mountain & Enduro Nature Trails as well as the Jamnica Single Trail Park. Here you bike freely and get one adrenalin kick after another.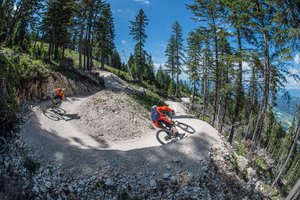 Post an enquiry

Dear mountainbike-friend,

Thank you for your request. The request has already been forwarded to the hotel.The hotel will contact you directly regarding your holiday-wishes.

Kind regards,

Your "Mountain Bike Holidays" Team
More information and tips for your mountain bike holiday
More information and tips for your mountain bike holiday