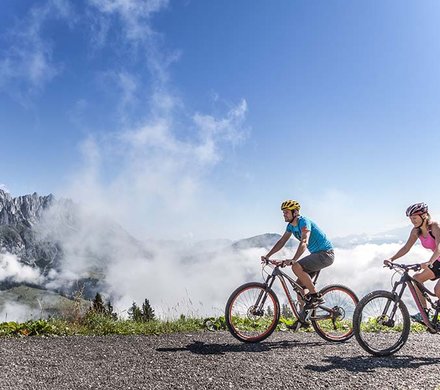 The Hochkönig Region with its villages Maria Alm, Dienten and Mühlbach is embedded in a pristine natural landscape with the Steinerne Meer and the Hochkönig as backdrop and is a real insider tip for every biker who appreciates individuality very much.
Facts:
Completely new signposting of the biking network, following the lead of the Pinzgau District and Salzburg concepts
Increasing the (bike) transport capacity of the DorfJet Natruns (local lift in Maria Alm)
Expansion of the bike hire offer (in particular in the area of fullies and E-bikes) and the Rose-Test Centre at the Hotel Eder
New: Natrun Flow Trail 
Fatbiken in Maria Alm: every Thursday at 3:35 pm
THE MOUNTAIN AND E-BIKE EL DORADO
In the past few years, much has been done to create a biking programme full of adventures in the young, up-and-coming Hochkönig Region. Leisurely excursions by E-mountain bike like, for example, the "ii-Tour" - a panorama tour through the entire region, extreme tours with many metres in altitude like the Hundstein tour or fun and action on single trails at the Hochkönig; it doesn't matter what you want to do with your bike, the Hochkönig Region fulfils all your wishes.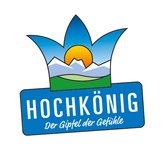 Hochkönig Tourismus GmbH
Austria
+43 6584 20388
region@hochkoenig.at
http://www.hochkoenig.at/de/sommer-urlaub-salzburg/mountainbike.html
Tour & Trail

"Tour & Trail" means more outdoor fun with experts during "Mountain Bike Holidays". Guided tours provide more adventure, more safety and more competence and are the forte of "Mountain Bike Holidays".

Mountain railways & bike transport services

Take a comfortable cable car or chairlift up to the mountain and then continue your tour by mountain or E-bike or enjoy a spectacular downhill ride.

"Mountain Bike Holidays" Tip: All summer mountain railways are FREE of charge in connection with the Hochkönigs Card! Your bike is also transported free of charge. 

Bikeguiding

Details about bike guiding and guided tours are provided directly at the Hotel Eder.

Guided tours in various ability groups
Biking technique trainings

The hotel is supported by BikeMax, the bike school at the Hochkönig:

Mountain biking
E-biking
Technique trainings
Private guiding
Packages and camps

Porti-Sport in Dienten also offers guided tours for the guests. 

Bike shops, hire & service

Whether it is about your own bike and you need spare parts or repair work done or you want to hire a mountain bike or E-mountain bike, you will find expert advice here . 

Easy & E-MTB

Panoramas instead of metres in altitude, nature's delight instead of aching muscles, Brettljause (lunch with cold meats, sausages, cheese) instead of energy drinks; "Easy & E-Bike" is the "Mountain Bike Holidays" offer for MTB-beginners, leisure bikers, E-bikers and the entire family.
Post an enquiry

Dear mountainbike-friend,

Thank you for your request. The request has already been forwarded to the hotel.The hotel will contact you directly regarding your holiday-wishes.

Kind regards,

Your "Mountain Bike Holidays" Team