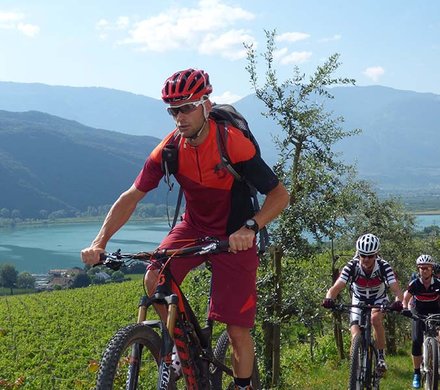 Tours with just a few metres in altitude, single trails for miles and ascents of the tougher kind – this is an area where beginners and experts alike feel really good. From the easy-going up and down in the uplands of the Monticolo Lakes to the sporty extreme-trail at the Roen with a stunning downhill run across 14 km, everything is possible here.
Highlights of the region:
Sunrise tour

at the Roen

Long bike

season (March – November)
South Tyrolean Wine Route
THE IDEAL BIKING AREA IN SOUTH TYROL'S SOUTH
In South Tyrol's sunny south around Lake Kaltern is the bike season longer than usual: namely from March until November. Tours through vineyards and blossoming apple orchards as well as on sunny high altitude trails make the start to the season perfect.
With the winegrowing villages Tramin, Kurtatsch, Margreid and Kurtinig in 220 metres in altitude and 90 kilometres away from Lake Garda, this is a not so well-known biking region in the south of South Tyrol. Situated directly along the South Tyrolean Wine Route, the area is blessed with a mild climate, olive trees, cypresses and palm trees. Boasting more than 300 days of sunshine per year, there is plenty of time to try the variety of biking possibilities. After the tour we chill in the old side streets and cellars with a glass of a good Gewurztraminer.
The highlight in summer is the sunrise tour at the Roen. A wonderful 360° panoramic view to the Dolomites, Brenta and the mountains of the Alps' main crest combined with a cliff edge of almost 2.000 metres in altitude make this tour an absolute must.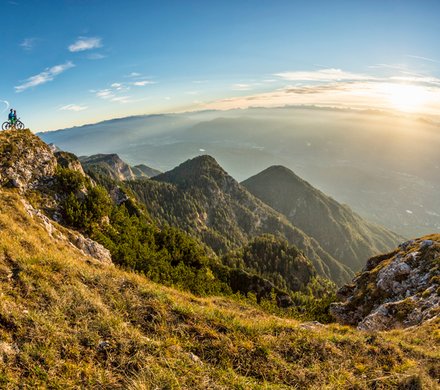 Tramin
Thanks to its favourable location in the south of South Tyrol, the bike region at Lake Kaltern is the ideal starting point for mountain bike tours. Countless cycling trails in the valleys but also at the local mountain, the Roen, and in the neighbouring villages of Kurtatsch, Kaltern and Eppan make this region a real cycle paradise.
Tour & Trail
Easy & Family
Bike-Highlights Tramin
Tour & Trail
Leisure bike tours are an absolute highlight in Tramin. Bikers of all ages cycle to various leisure stations on easy, tarred trails. The not very challenging but very beautiful routes lead through apple orchards and vineyards to swimming lakes with pleasantly warm waters which invite for a stop.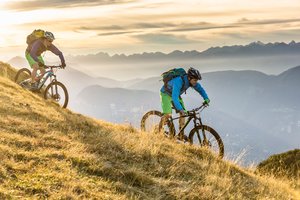 Easy & Family
Diverse mountain bike tours, racy trails on rocky grounds or soft forest soil – mountain bikers have many options in the Tramin / Lake Kaltern region from March until November. Spectacular tours lead, for example, to the Roen, the Trudner Horn or the ice holes.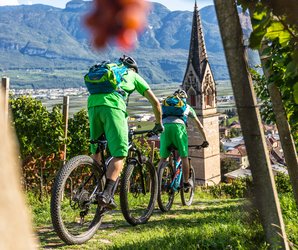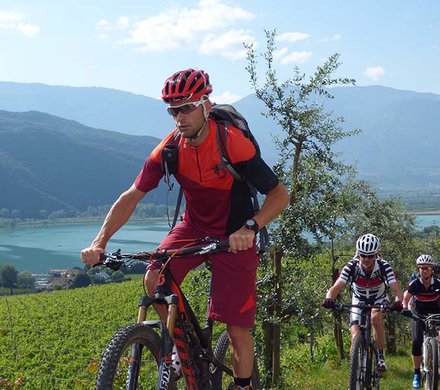 The region offers mountain bikers 4 cable cars with transport for bikes. 
Bike shops in the surrounding area can be found here.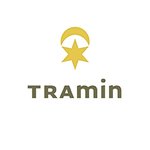 Post an enquiry

Dear mountainbike-friend,

Thank you for your request. The request has already been forwarded to the hotel.The hotel will contact you directly regarding your holiday-wishes.

Kind regards,

Your "Mountain Bike Holidays" Team
More information and tips for your mountain bike holiday
More information and tips for your mountain bike holiday