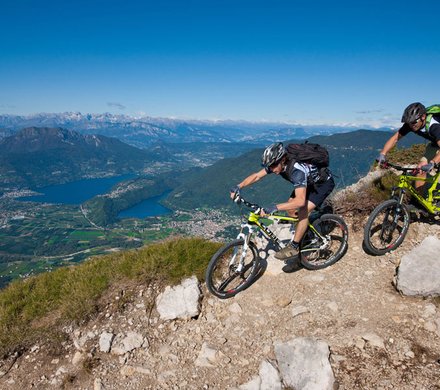 Mountain biking in Dolomiti Lagorai Bike
Apart from Lake Garda and the Brenta Dolomites, there is a third paradise for mountain bikers: Dolomiti Lagorai Bike.
Highlights of the region:
Rododendro MTB Kids Minipark
"DH2" Trail
Grand Tour
San Martino Bike Arena
Dolomiti Lagorai Bike, an extraordinary bike region
Valsugana, Val di Fiemme, Val di Fassa, San Martino di Castrozza and Val di Cembra in the eastern part of Trentino have merged and have become a unique mountain bike region which offers a diverse range of first class tours and panoramas. A cocktail of tours from rocky peaks in dizzy heights to lake tours in the valley offers every biker a suitable tour that matches the individual performance ambition.
The valley villages in the Val die Fiemme and in the Val di Fassa are situated in over 1.000 metres above sea level. Challenging single trails, rewarding panorama views, lifts with transport for bikes and the Bike Park Canazei characterise this part of the region. All requests and requirements of downhillers and the "wild things" are fulfilled here. The amazing views from the Val Venegia to the Pala Mountains and the rugged mountains of the Lagorai offer a very special feeling of freedom. The new San Martino Bike Arena with two routes is just perfect for downhill fans.
It doesn't take long to realise that the Valsugana is different. The most southern valley is situated in significantly less metres above sea level, enjoys a much milder climate and boasts therefore the longest bike season. Bikers feel especially good on the tours with view to the Lago di Caldonazzo and the Lago di Levico. The highest peaks accessible by bike are situated 2.100 above sea level here. Discover the Pinè Plateau in the Val di Cembra, the valley on the western side.
Biketouren - Dolomiti Lagorai Bike
Bike Events - Dolomiti Lagorai Bike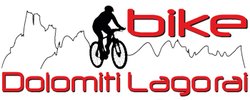 Dolomiti Lagorai Bike
Cavalese - Canazei - Levico Terme - San Martino di Castrozza - Altopiano di Pinè
Italy
+39 0439 768867
info@dolomitilagoraibike.it
http://www.dolomitilagoraibike.it/info-mountainbike/kontakt-p92.html
Post an enquiry

Dear mountainbike-friend,

Thank you for your request. The request has already been forwarded to the hotel.The hotel will contact you directly regarding your holiday-wishes.

Kind regards,

Your "Mountain Bike Holidays" Team