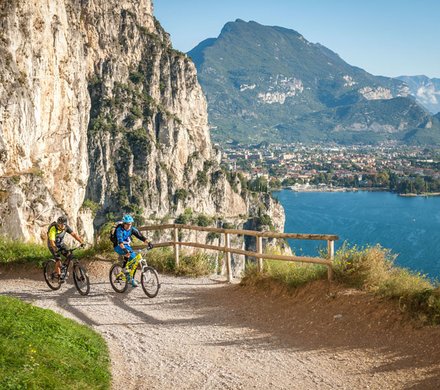 Mountain biking at Lake Garda
This unique bike arena in the north of Italy is characterised by extreme contradictions and stretches from Lake Garda to the famous peaks of Tremalzo, Monte Baldo and Monte Bondone. Mediterranean Dolce Vita and the rugged mountains leave no biker's heart untouched. Spring and autumn are the best and also most popular biking seasons here.
Data:
Tours with more than 2.000 metres in altitude
New: Garda Trentino Bike Marathon Route
Bike Park Busatte
New: Bike Park Garda Trentino Gravity
Bike classic Lake Garda
The region around Lake Garda is the classic mountain bike area per se. The Lake Garda region, the Valle di Ledro, Rovereto and Vallagarina, Trento, the Monte Bondone as well as the Valle die Laghi have merged together to create Mountain & Garda Bike. Leading through all sub-regions, a 200 km long circular route with a total of 10.000 metres in altitude has been developed.
Asphalt and gravel ascents can be found here just as much as technically challenging single trails and racy downhill routes on moderate ground. True mountain bike freaks opt for interlocked, steep and rocky passages which demand a great deal of effort.
Biketouren - Gardasee
Park Hotel Il Vigneto
~~The route starts from Riva del Garda: go across the town centre and follow the road signs to &ldq...
Park Hotel Il Vigneto
The path to the nothern limits of the Valle del Sarca is long but not difficult. From the bridge in...
Park Hotel Il Vigneto
From the car park near the bridge over the River Sarca turn right through the old town centre of Ar...
Tour & Trail

"Tour & Trail" means more outdoor fun with experts during "Mountain Bike Holidays". Guided tours provide more adventure, more safety and more competence and are the forte of "Mountain Bike Holidays".

Bike tours in the region

Route highlights:

The Old Ponale Road
Classic Monte Velo Tour
Bocca di Trat
Monte Altissimo
Tremalzo Pass

Bikeguiding

All details about bike guiding can be found directly at the Park Hotel Il Vigneto.

Guided tours with the bike school
Bike shuttle will be arranged
Biking technique training

In addition, guided tours are also offered by 2 bike schools in the region:

Bike shops, hire & service

Many bike shops offer their services in the northern region of Lake Garda: sale, hire and repairs are provided by professional and competent specialists.

Events & Camps

Whether you are well trained and take part yourself or you prefer to be a spectator along the route and cheer on your favourite, here you will find all details about MTB events in the region.

Freeride & Parks

"Freeride & Parks" is THE meeting point of the scene on "Mountain Bike Holidays". This is where freeriders, downhillers and dirt freaks get together.

Bikepark

BMX track
Single tracks
Obstacle course
500 m track through the wood
Trial area

Cooming soon: Bike Park Garda Trentino Gravity

Four new Gravity Trailsfor downhill fans in Torbole sul Garda and Arco

Bikeguiding

All details about bike guiding can be found directly at the Park Hotel Il Vigneto.

Guided tours with the bike school
Bike shuttle will be arranged
Biking technique training

In addition, guided tours are also offered by 2 bike schools in the region:

Events & Camps

Whether you are well trained and take part yourself or you prefer to be a spectator along the route and cheer on your favourite, here you will find all details about MTB events in the region.

Easy & e-MTB

Panoramas instead of metres in altitude, nature's delight instead of aching muscles, Brettljause (lunch with cold meats, sausages, cheese) instead of energy drinks; "Easy & E-Bike" is the "Mountain Bike Holidays" offer for MTB-beginners, leisure bikers, E-bikers and the entire family.

Easy bike tours in the region

Route highlights:

Giro della Busa (319 hm)
Marocche (531 hm)
Kid's Tour (143 hm)
Santa Lucia Tal (200 hm)
Laghel Tal (250 hm)

Bikeguiding

All details about bike guiding can be found directly at the Park Hotel Il Vigneto.

Guided tours with the bike school
Bike shuttle will be arranged
Biking technique training

In addition, guided tours are also offered by 2 bike schools in the region:

Bike & Family

The Garda Trentino region offers an extensive range of cycling trails for the entire family. There are easy routes which start at the shores of Lake Garda as well as cycling trails which lead across exciting dirt roads with various levels of difficulty but are manageable for everyone.

Services for the entire family:

Tours with guides
Bicycle and children's trailer hire
Specialised repair shops

Tipp: Kid's Tour on the Riva del Garda cycling track (17.1 km / 143 metres in altitude)
Post an enquiry

Dear mountainbike-friend,

Thank you for your request. The request has already been forwarded to the hotel.The hotel will contact you directly regarding your holiday-wishes.

Kind regards,

Your "Mountain Bike Holidays" Team