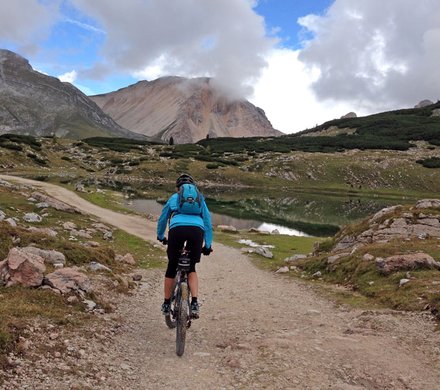 Mountain biking at the Kronplatz – Tauferer Ahrntal
On smugglers' paths across the Alps into the south. More variety is not possible: through the Taufer Ahrntal Valley across the Kronplatz to the World Heritage Site Dolomites with the Fanes-Sennes Nature Park.
Data:
23 tours
MTB freeride trail at the Kronplatz
Puster Valley cycling track
E-bike
Biking through a World Heritage – natural site
Have you ever discovered a World Heritage site by bike or have taken the Stoneman Trail Dolomiti? No? Then off to the Kronplatz-Tauferer Ahrntal region. Countless tracks, exciting single trails, forest roads and paths through the woods criss-cross the Fanes-Sennes-Prags Nature Park which became an UNESCO World Heritage Natural Site in 2009, and is one of the most beautiful nature parks in the world. The diversity and the experience of nature and emotions on trails, paths through woods and pastures, old military roads and smugglers' trails across long-forgotten passes are unbeatable. Depending on the individual physical condition, the pedals are pushed either leisurely or sweat-inducing until the destination is reached. In this way, every tour becomes a unique experience with lasting emotions.
Biketouren - Kronplatz - Tauferer Ahrntal
Bike Events - Kronplatz - Tauferer Ahrntal
Tour & Trail

"Tour & Trail" means more outdoor fun with experts during "Mountain Bike Holidays". Guided tours provide more adventure, more safety and more competence and are the forte of "Mountain Bike Holidays".

Bike tours in the region

Route highlights:

Stoneman Trail Dolomiti
Kronplatz Trail
Lake Prags Tour
Fanes-Sennes Tour
Rodeneck Alm Tour

Mountain railways & bike transport services

Transport of bikes is provided by all lifts and buses in this bike region!

Kronplatz 2000
Olang I and II
Ruis
Piz de Plaies

Preise:

Adults
Youth
(born after 1.1.1999)
Children
(born after 01.01.2007)
Day ticket

€ 30,00
€ 21,00
€ 0,00
3 days
€ 60,00
€ 42,00
€ 0,00
5 in 7
€ 90,00
€ 63,00
€ 0,00

Tip: Bike Mobil Card
The combo-ticket for hire bikes and public transport services!

NEW: Follow your emotions - DOLOMITI SUPERSUMMER CARD 
100 Mountain Railways - 12 Dolomite Valleys - 1 Ticket 

Day ticket: € 44.00
Flexi ticket 3 out of 4 days: € 100.00
Flexi ticket 5 out of 7 days: € 130.00
includes bike transport

For more details visit: www.dolomitisupersummer.com

Bikeguiding

You can find out all about bike guiding and guided tours directly at these hotels Mountain Style Spa Resort Excelsior, Sport Hotel exclusive, Hotel Reipertingerhof and Hotel Innerhofer.

Hotel-own guides
Guided tours in various ability groups
Freeride & Downhill, downhill taster courses
Technique training
Bike hire
Shuttle service
Special Camps

Bike shops, hire & service

Tip: Bike Mobil Card
The combo-ticket for hire bikes and public transport services!

Bike hire directly at the hotels:

Mountain Style Spa Resort Excelsior
Sport Hotel exclusive

Events & Camps

Whether you are well trained and take part yourself or you prefer to be a spectator along the route and cheer on your favourite, here you will find all details about MTB events in the region.

Freeride & Parks

"Freeride & Parks" is THE meeting point of the scene on "Mountain Bike Holidays". This is where freeriders, downhillers and dirt freaks get together.

Trails

Freeride Kronplatz

The Kronplatz turns into a meeting point for freeriders during the summer. Gravity freaks rock the mountain on the adrenaline-packed downhill tracks.

Tariffs:

Adults
Youth
(born after 1.1.1999)
Children
(born after 01.01.2007)
Day ticket
€ 28,00
€ 20,00
€ 0,00

Mountain railways & bike transport services

Transport of bikes is provided by all lifts and buses in this bike region!

Kronplatz 2000
Olang I and II
Ruis
Piz de Plaies

Preise:

Adults
Youth
(born after 1.1.1999)
Children
(born after 01.01.2007)
Day ticket

€ 30,00
€ 21,00
€ 0,00
3 days
€ 60,00
€ 42,00
€ 0,00
5 in 7
€ 90,00
€ 63,00
€ 0,00

Tip: Bike Mobil Card
The combo-ticket for hire bikes and public transport services!

NEW: Follow your emotions - DOLOMITI SUPERSUMMER CARD 
100 Mountain Railways - 12 Dolomite Valleys - 1 Ticket 

Day ticket: € 44.00
Flexi ticket 3 out of 4 days: € 100.00
Flexi ticket 5 out of 7 days: € 130.00
includes bike transport

For more details visit: www.dolomitisupersummer.com

Bikeguiding

You can find out all about bike guiding and guided tours directly at these hotels Mountain Style Spa Resort Excelsior, Sport Hotel exclusive, Hotel Reipertingerhof and Hotel Innerhofer.

Hotel-own guides
Guided tours in various ability groups
Freeride & Downhill, downhill taster courses
Technique training
Bike hire
Shuttle service
Special Camps

Bike4Kids

The Outdoor Center Kronplatz offers downhill, freeride and pump track taster courses for children during the summer months.

Events & Camps

Whether you are well trained and take part yourself or you prefer to be a spectator along the route and cheer on your favourite, here you will find all details about MTB events in the region.

Easy & e-MTB

Panoramas instead of metres in altitude, nature's delight instead of aching muscles, Brettljause (lunch with cold meats, sausages, cheese) instead of energy drinks; "Easy & E-Bike" is the "Mountain Bike Holidays" offer for MTB-beginners, leisure bikers, E-bikers and the entire family.

Easy bike tours in the region

Route highlights:

Puster Valley cycling track (3 stages, in total 105 km, 500 metres in altitude)
Beginners' tour (325 metres in altitude)

e-MTB

In this region, E-bikers will find what their heart desires. Whether the well-designed network of charging and battery stations, special E-bike tours or E-bike hire; the Kronplatz is well prepared for E-bikers.

The most popular E-bike tours in the Puster Valley:

Bruneck – Tauferer Ahrntal Valley
Bruneck – Lienz (return by train possible)
Mühlbach – Innichen (return by train possible)

» To the E-bike routes
» Puster Valley bike hire
» Kronplatz bike hire and guided tours

Mountain railways & bike transport services

Transport of bikes is provided by all lifts and buses in this bike region!

Kronplatz 2000
Olang I and II
Ruis
Piz de Plaies

Preise:

Adults
Youth
(born after 1.1.1999)
Children
(born after 01.01.2007)
Day ticket

€ 30,00
€ 21,00
€ 0,00
3 days
€ 60,00
€ 42,00
€ 0,00
5 in 7
€ 90,00
€ 63,00
€ 0,00

Tip: Bike Mobil Card
The combo-ticket for hire bikes and public transport services!

NEW: Follow your emotions - DOLOMITI SUPERSUMMER CARD 
100 Mountain Railways - 12 Dolomite Valleys - 1 Ticket 

Day ticket: € 44.00
Flexi ticket 3 out of 4 days: € 100.00
Flexi ticket 5 out of 7 days: € 130.00
includes bike transport

For more details visit: www.dolomitisupersummer.com

Bikeguiding

You can find out all about bike guiding and guided tours directly at these hotels Mountain Style Spa Resort Excelsior, Sport Hotel exclusive, Hotel Reipertingerhof and Hotel Innerhofer.

Hotel-own guides
Guided tours in various ability groups
Freeride & Downhill, downhill taster courses
Technique training
Bike hire
Shuttle service
Special Camps

Bike & Family

The Outdoor Center Kronplatz offers easy to intermediate guided cycling tours for the entire family as part of the week programme.

Popular family tours:

Bruneck – Taufers Castle
Rainbach Waterfalls
Post an enquiry

Dear mountainbike-friend,

Thank you for your request. The request has already been forwarded to the hotel.The hotel will contact you directly regarding your holiday-wishes.

Kind regards,

Your "Mountain Bike Holidays" Team