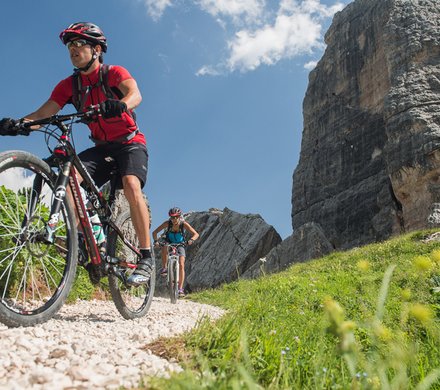 Mountain biking in the Val Gardena means fun and challenges for sporty bikers. Mountain bikers are free to do as they please on steep uphill and downhill tracks, trails rich in variety and diverse MTB routes from the beginning of June until the end of October. Anyone whose physical condition is not at top level should use one of the many lift facilities
New in the region:
New freeride route "Freeride Ciampinoi"
Newly constructed gondola cable car Dantercepies
Biking fun and challenges in the Dolomites
3.800 metres in altitude, 6 lifts, fantastic trails and only 700 metres uphill make it easy to opt for the Sellaronda tour – a unique bike experience. Stunning views across the UNESCO World Heritage Natural Site – the Dolomites -, technically challenging single trails on downhill routes which rarely follow the road and many lasting impressions of a unique natural landscape can be expected.
A stunning view to the Marmolada, the queen of the Dolomites, provides the highest point of the tour at almost 2.500 metres above sea level. The last trail leads then back into the valley to Wolkenstein. It is quite a shame that the tour finishes then. The best of the Sellaronda tour is that it can be taken again straight away just in the opposite direction. A very special experience is the Sellaronda Bike Day which is staged twice a year and being staged for the 11th time in 2016. The Sella Pass, the Gardena Pass, the Pordoi and the Campolongo are closed for motorised traffic and are only open for bikers on those two days.
Biketouren - Gröden - Dolomiten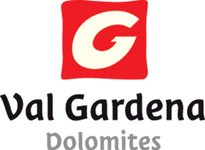 Val Gardena Gröden Marketing
Dursan 80/c
39047 St. Christina
Italy
+39 0471 777 777
info@valgardena.it
http://www.valgardena.it
Bike Events - Gröden - Dolomiten
Tour & Trail

"Tour & Trail" means more outdoor fun with experts during "Mountain Bike Holidays". Guided tours provide more adventure, more safety and more competence and are the forte of "Mountain Bike Holidays".

Bike tours in the region

Route highlights:

Sellaronda tour
Beneath the Geislers
Seiser alpine hut tour
Val Duron
Freeride Ciampinoi

Mountain railways & bike transport services

The Gardena Card entitles bikers to the unlimited use of the cable cars in the region. Bikes can be transported for a fee of € 5.00 on the following lifts:

Ulrich – Seiser Alm
Sonne, Seiser Alm
Ulrich Raschötz
Ulrich – Furnes – Seceda
Fermeda, Seced
Christina – Monte Pana
Monte Pana – Mont Sëura
Wolkenstein – Ciampinoi
Wolkenstein – Dantercëpies
Cir, Grödner Joch – Dantercëpies
Sellajoch – Langkofelscharte

Prices for the Gardena Card:

| | | | |
| --- | --- | --- | --- |
| | Adults | Youth (8 – 16 years) | Children (until 8) |
| 3 days | € 60,00 | € 43,00 | € 5,00 |
| 6 days | € 79,00 | € 57,00 | € 5,00 |


Biking up! Bike pass
Transport by cable car, including bikes

| | |
| --- | --- |
| | Adults |
| 3 in 4 | € 100,00 |
| 5 in 7 | € 130,00 |

NEW: Follow your emotions - DOLOMITI SUPERSUMMER CARD
100 Mountain Railways - 12 Dolomite Valleys - 1 Ticket

Day ticket: € 44.00
Flexi ticket 3 out of 4 days: € 100.00
Flexi ticket 5 out of 7 days: € 130.00
includes bike transport

For more details visit: www.dolomitisupersummer.com

Bikeguiding

The "Ride the Dolomites" team around Günther Linder, hotel manager of the Bike Hotel Linder, is in charge of guided tours in the region.

Guided tours in 2 ability groups
Single trail tours
Enduro tours
"Ride the Dolomites" freeride tours
Guided Sellaronda MTB tour
Technique courses
Offers for training groups, cycling clubs and larger groups

The Mountain Bike School Val Gardena is a partner of the Bike Hotel Linder. Further details on: www.mtbvalgardena.com  

Bike shops, hire & service

Hire bikes are available at the SCOTT BIKE Rent & Test Centre in Wolkenstein. The best SCOTT bikes are waiting for a test ride here.

Events & Camps

Whether you are well trained and take part yourself or you prefer to be a spectator along the route and cheer on your favourite, here you will find all details about MTB events in the region.

New Trails

New trails in Gröden:

Freeride Ciampinoi (Freeride Parcourse)
Start: Upper terminus of the cable car with the same name, 2.140 metres above sea level
Destination: Wolkenstein
Route length: 2.700 metres
Altitude difference: 550 metres
Single trails Sella Pass and Grödner Pass:
Start: Sella Pass in 2.244 metres above sea level
Destination: Wolkenstein
Route length: 4.500 metres
Altitude difference: 600 metres

Start: Grödner Pass in 2.121 metres above sea level
Destination: Wolkenstein
Route length: 6.000 metres
Altitude difference: 550 metres
Single trail Vallongia
Start: Vallongia Hut
Destination: Wolkenstein
Route length: 2.300 metres
Altitude difference: 460 metres
Post an enquiry

Dear mountainbike-friend,

Thank you for your request. The request has already been forwarded to the hotel.The hotel will contact you directly regarding your holiday-wishes.

Kind regards,

Your "Mountain Bike Holidays" Team