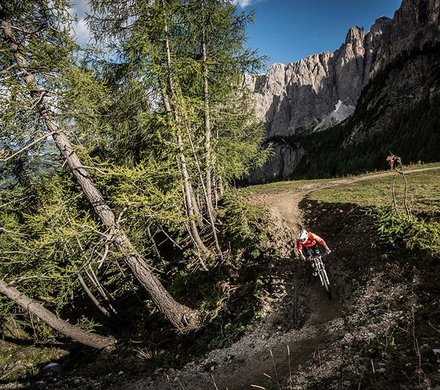 Mountain biking in Alta Badia
It is easily conceivable that here in the heart of the Dolomites, an UNESCO World Heritage Site, the tours are especially wonderful. Stunning mountain roads, an unforgettable panorama in the middle of the Fanes-Sennes-Prags Nature Park as well as the Puez-Geisler and the attractive touristic offer of the Bike Friendly companies guarantee an amazing mountain bike holiday in Alta Badia.
New in the region:
Freeride Plansfrara in Colfosco (Gardena Pass-Colfosco)
Dolomites biking
Whether biking novice or experienced mountain biker, every kind of biker will find the perfect tour on two wheels in Alta Badia. The leisure tour to the Ladin farmyards or the tours from village to village along the river provide fun for the entire family and MTB beginners alike. Anyone who likes it a bit more challenging, prefers a few more metres in altitude and doesn't mind breaking some sweat occasionally will find what they are looking for on tours like the one leading to the Holy Cross Church. Hardcore bikers can be found on the "hard trails". There is hardly any asphalt but many forest tracks and single trails on the Sellaronda Tour. Only recommended for those who already have managed some metres in altitude and are in top physical condition! The region's highlight is surely the Sellaronda tour. The Sellaronda Bike Day is staged twice a year. All four Dolomites passes are only open for bikers on those two days, and the scenery is especially enjoyable during this time.
The region is also known for its excellent tradition in the hotel and catering business which is maintained and passed on from generation to generation. With their language and thousand-year old traditions offer the Ladins, the inhabitants of those villages, hospitality of the special kind.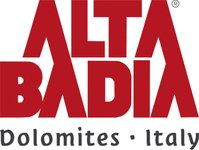 Tourismusverband Alta Badia
Str. Col Alt 36
39033 Corvara
Italy
+39 0471 836 176
info@altabadia.org
http://www.altabadia.org
Tour & Trail

"Tour & Trail" means more outdoor fun with experts during "Mountain Bike Holidays". Guided tours provide more adventure, more safety and more competence and are the forte of "Mountain Bike Holidays".

Bike tours in the region

Route highlights:

Sellaronda tour
Pisciadù Waterfalls
Holy Cross Church
Schlüterhütte
Freeride Plansfrara in Colfosco

Mountain railways & bike transport services

Take the bike up to the mountain, not by using your own muscle power but the lift. The following Alta Badia lift facilities provide a transport service for bikes:

Col Alto, Corvara
Braia Fraida, Corvara
Plans Frara, Colfosco
Col Pradat, Colfosco
Piz La Ila, La Villa
Gardenaccia, La Villa
Piz Sorega, San Cassiano
Santa Croce, Badia
La Crusc, Badia
Cherz 1, Corvara/Campolongo
Campolonge-Bec de Roces, Corvara/Campolongo

Mountain Pass Alta Badia, the pass for the region's mountain railways
Tariffs:

Days
Adults
Youth
(born after 01.06.99)
Children
(born after 01.06.2007)
3 in 4
€ 48,00
€ 34,00
€ 0,00
5 in 7
€ 60,00
€ 42,00
€ 0,00
12 in 14
€ 109,00
€ 76,00
€ 0,00

NEW: Follow your emotions - DOLOMITI SUPERSUMMER CARD
100 Mountain Railways - 12 Dolomite Valleys - 1 Ticket

Day ticket: € 44.00
Flexi ticket 3 out of 4 days: € 100.00
Flexi ticket 5 out of 7 days: € 130.00
includes bike transport

For more details visit: www.dolomitisupersummer.com

Bikeguiding

You can find out all about bike guiding and guided tours directly at the three bike hotels "Hotel Pider", "Hotel Melodia del Bosco" and "Gran Paradiso".

Hotel-own guides
Guided Sellaronda tour
Guided multi-day tours with overnight stays in alpine huts and luggage transfer
Trail & freeride packages, Dolomites Freeride Week
Bike & Hike Weeks
Trails Weeks
eMTB tours

Guided Sellaronda mountain bike tour bookable for the period 20.06. – 20.09.2015!
Price incl. Bike Pass: € 75.00

Bike shops, hire & service

You can select and hire a suitable bike in the Alta Badia region at these hire stations. The rate for a hire bike is between € 24.00 and € 39.00 per day.

TIP: E-MTB Sharing in Alta Badia 
From June until September, hire a modern E-bike from the E-bike hire stations on the Col Alt, Piz La Ila, Piz Sorega and from the Tourist Offices in Corvara and La Villa and take it back to a hire station which is handy for you at the end of the day.

SINGLE TRAILS AND ENDURO ROUTE

New in Alta Badia:

Single trail Frara
Start: Grödner Pass (2.121 m)
Length: 3 km
Altitude difference: 470 m
Piz Enduro Tour
Start: Badia (1.324 m)
Length: 49 km
Altitude difference: 3.480 m (Use of the mountain railways! Altitude difference managed by own muscle power: 800 m)

NEW from winter 2015-16

A new Fat Bike offer, including hire, guided tour and special fat bike routes, is available in Alta Badia from winter 2015-16.
Post an enquiry

Dear mountainbike-friend,

Thank you for your request. The request has already been forwarded to the hotel.The hotel will contact you directly regarding your holiday-wishes.

Kind regards,

Your "Mountain Bike Holidays" Team