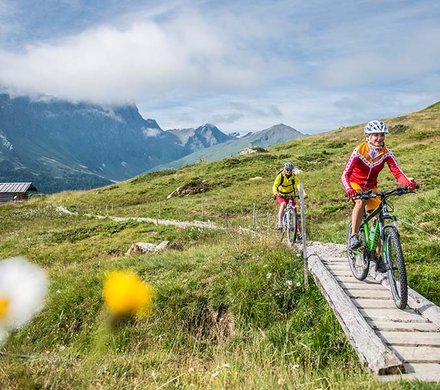 Mountain biking in the Savognin
240 km of marked bike routes with various levels of difficulty wind their way through this first class Bike El Dorado. It doesn't matter which tour you take, Lake Lai Barnagn attracts with its refreshing waters at the end of the day.
Highlights in the region:
Comfortable by bikers' and hikers' bus to the best starting points for tours (collect and pick-up service)
Mountain Bike School for Kids (aged 6 – 10 years)
Free of charge use of the Savognin mountain railways including transport of bikes in connection with the guest card during summer/autumn (www.savognin.ch/elacard)
Tour variety in the Savognin
The holiday region Savognin Bivio Albula is located in the Parc Ela, Switzerland's largest nature park. Flowy trails, a variety of natural roads and forest paths as well as perfectly arranged bike transport with bikers' and hikers' bus, mountain railways or postbus are a delight for leisure bikers and families as well as high-performance bikers. Biking is permitted on more than 800 km of designated biking routes as well as on hiking trails throughout the region. The selection of tours is vast and diverse. You can prepare tours perfectly and download all important information from the bike app of Graubünden Ferien (Grisons Holidays). The app allows you to check maps, elevation profiles and distance details anytime when out and about. The holiday region Savognin Bivio Albula is especially suitable for families. Children learn how a mountain bike works and how to use it safely at the Mountain Bike School for Kids. The supervised Pinocchio Club offers games, fun and adventure for all kids aged 3 to 12. The children can play and frolic around while the parents relax on a bike tour.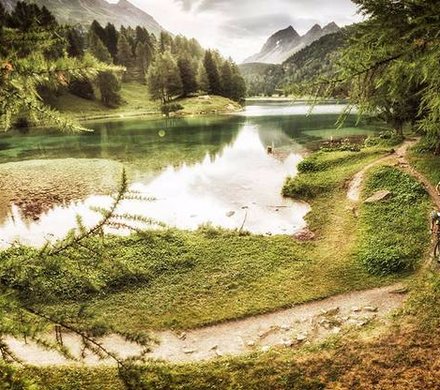 Savognin
Whether easy and short tour to an alpine hut or a challenging day tour in Switzerland's largest nature park – the selection for mountain bikers in Savognin is huge. Enjoy the alpine landscape, the stunning views and the perfectly groomed bike trails.
Bike-Highlights Savognin
Tour & Trail
A unique nature experience is waiting for you on over 800 km of bike trails. From crisp ascent to diverse trails and single trail downhill run in beautiful mountain scenery, this region leaves nothing to be desired.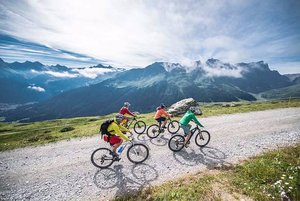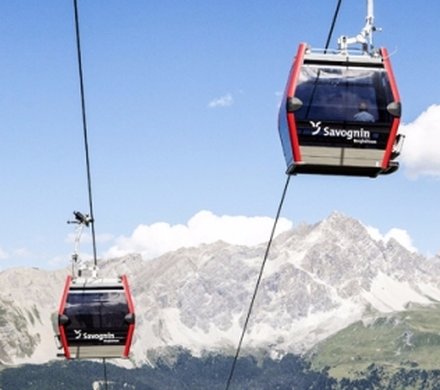 Mountain railways:
The transport of bikes on the mountain railways in Savognin is free of charge in connection with the Ela-Card!
Mountain railways with transport for bikes:
4-seater chairlift: Savognin – Tigignas
10-seater gondola lift: Tigignas – Somtgant
Bikers' and hikers' bus:
The bikers' & hikers' bus takes hikers and bikers to the best tour starting points five days a week.
Mountain bike school for kids
Children aged 6 to 10 are taught technical know-how about their bike as well as skills for safe mountain biking. Balance exercises, braking games, playfully negotiating obstacles and teaching body control help the youngsters to become confident in riding a bike. The only requirement is: The child must already be able to ride a bike steadily. 

Post an enquiry

Dear mountainbike-friend,

Thank you for your request. The request has already been forwarded to the hotel.The hotel will contact you directly regarding your holiday-wishes.

Kind regards,

Your "Mountain Bike Holidays" Team
More information and tips for your mountain bike holiday
More information and tips for your mountain bike holiday