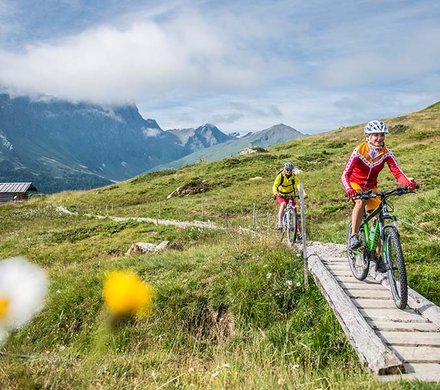 Mountain biking in the Savognin
240 km of marked bike routes with various levels of difficulty wind their way through this first class Bike El Dorado. It doesn't matter which tour you take, Lake Lai Barnagn attracts with its refreshing waters at the end of the day.
New in the region:
Comfortable by bikers' and hikers' bus to the best starting points for tours (collect and pick-up service)
Mountain Bike School for Kids (aged 6 – 10 years)
Free of charge use of the Savognin mountain railways including transport of bikes in connection with the guest card during summer/autumn (www.savognin.ch/elacard)
Tour variety in the Savognin
The holiday region Savognin Bivio Albula is located in the Parc Ela, Switzerland's largest nature park. Flowy trails, a variety of natural roads and forest paths as well as perfectly arranged bike transport with bikers' and hikers' bus, mountain railways or postbus are a delight for leisure bikers and families as well as high-performance bikers. Biking is permitted on more than 800 km of designated biking routes as well as on hiking trails throughout the region. The selection of tours is vast and diverse. You can prepare tours perfectly and download all important information from the bike app of Graubünden Ferien (Grisons Holidays). The app allows you to check maps, elevation profiles and distance details anytime when out and about. The holiday region Savognin Bivio Albula is especially suitable for families. Children learn how a mountain bike works and how to use it safely at the Mountain Bike School for Kids. The supervised Pinocchio Club offers games, fun and adventure for all kids aged 3 to 12. The children can play and frolic around while the parents relax on a bike tour.

Savognin Tourismus im Surses
Stradung
7460 Savognin
Switzerland
+41 81 659 1616
ferien@savognin.ch
http://www.savognin.ch/biken
Tour & Trail

"Tour & Trail" means more outdoor fun with experts during "Mountain Bike Holidays". Guided tours provide more adventure, more safety and more competence and are the forte of "Mountain Bike Holidays".

Bike tours in the region

Route highlights:

Raised bog "Alp Flix"
Heaven's Door Tour
Bela Vista Tour
6-Villages Tour
Savognin Downhill Trail (cable car!)

Mountain railways & bike transport services

Mountain bikers benefit from several bike transport services in Savognin:

Mountain railways:
The transport of bikes on the mountain railways in Savognin is free of charge! The use of the mountain railways is included in the services offered by the Ela-Card (from 1 overnight stay).

Mountain railways providing bike transport services (02.07. – 23.10.2016: operating daily in good weather):

Four-seater chairlift: Savognin – Tigignas
10-seater gondola cable car: Tigignas – Somtgant

Operating times:
Start: 9:00 am, lunch break from 12.00 pm – 1:15 pm
Last service chairlift: 4:15 pm
Last service gondola cable car: 4:30 pm

Bike and hike bus:
The Bike & Hike Bus takes hikers and bikers to the best starting points for tours on five days a week from 28th June until 22nd October 2016.
Costs in connection with the Ela Card: CHF 5.00 per adult
Registration at Savognin Tourismus by 5:00 pm the day before is required: +41 81 659 1616

PostAuto:
Postbuses with useful bike racks at the rear of the bus are run during the summer season.

Bikeguiding

The hotel CUBE SAVOGNIN is the bike centre of the region and is in charge of bike guiding.

Professional bike guides
Guided tours in 2 ability groups ion 7 days per week
New tours for downhill-biking (drop-off and pick-up service)
Biking technique trainings
Adventure tours
Safety packages
NEW: short pump track for lap time biking and biking technique trainings
Mountain Bike School for Kids Astrid Herzog, qualified MTB guide and manageress of Velomaid GmbH, teaches children aged 6 to 10 technical know-how about their bikes as well as skills for safe mountain biking. Balancing exercises, braking games, playfully managing obstacles and training physical awareness help the youngsters to become saddle fast. The only requirement: The child should already be able to ride a bike safely.
NEW: Ladies Bike Packages– To start with, a small drink while the mechanics check the bikes. A guide shows you the latest tricks and most beautiful sites during technique training and a guided tour. The experiences made during the day can be recalled during a joint fondue dinner in the evening.

Bike shops, hire & service

The CUBE SAVOGNIN offers bikers a shop, bike hire, a Merida Test Centre and a repair centre. The bike hire station provides hardtails and fullies. The bikes of the season can be tested on the trails of the Merida Test Centre.

NEW: bike service on arrival
You can hand in your bike directly on arrival. A qualified bicycle mechanic will check your bike and gets it ready for your holiday, delivering it directly to your room afterwards.

NEW: 2 different Thule children's trailers for bikes are available for hire:

1x Chariot Cougar (for 1 child)
1x Chariot Corsaire (for 2 children)

Thanks to the buggy set, which can be hired in addition, is the trailer easily converted into a buggy.

Prices:
1 day CHF 20.–
1/2 day CHF 10.–

NEW for hire: FAT BIKES
From 2016, the CUBE ACTIVE sports shop offers brand new Merida fat bikes. These can be booked as part of a guided tour or individually.

Events & Camps

Whether you are well trained and take part yourself or you prefer to be a spectator along the route and cheer on your favourite, here you will find all details about MTB events in the region.
Post an enquiry

Dear mountainbike-friend,

Thank you for your request. The request has already been forwarded to the hotel.The hotel will contact you directly regarding your holiday-wishes.

Kind regards,

Your "Mountain Bike Holidays" Team