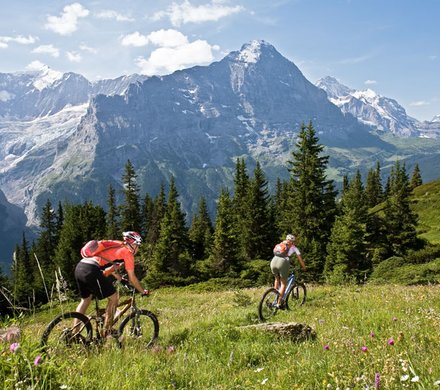 Mountain biking in Grindelwald
A sporty challenging tour or rather a more leisurely version? It doesn't matter which route you choose, they all have one thing in common – the stunning scenery of Eiger, Mönch and Jungfrau.
New in the region:
E-MTBs can be hired in the region
Additional tracks will be included in the GPS tracks from spring 2015 onwards
Videos about trails can be found on www.grindelwald.bike  
Biking in front of a stunning scenery
The impressive scenery of the Eiger, Mönch and Jungfrau are included free of charge when going on bike tours in Grindelwald. This world-famous triumvirate is an everyday sight for Grindelwald's population but is unique for the guests. Together with the glacier-topped mountain giants Schreckhorn, Finseraarhorn and Wetterhorn, they create spectacular scenery.
The tours in Grindelwald demand a great level of fitness. The ascents are in general very steep. Starting from Grindelwald, you should prepare yourself for 600 metres in altitude when aiming for tricky trails on the plateaus. Even more muscle power is required for the ascents which often exceed the 1.000 metres in altitude benchmark. For anyone who hasn't got enough energy to master such ascents without help, there are plenty of cable cars, trains or buses to ease the ascending ride, to save quite a few metres in altitude and to preserve some energy.
Biketouren - Jungfrau Region Grindelwald

Jungfrau Region
Untere Bönigstraße 8
3800 Interlaken
Switzerland
+41 33 854 1250
info@jungfrauregion.ch
http://www.bikearena.ch
Bike Events - Jungfrau Region Grindelwald
Tour & Trail

"Tour & Trail" means more outdoor fun with experts during "Mountain Bike Holidays". Guided tours provide more adventure, more safety and more competence and are the forte of "Mountain Bike Holidays".

Mountain railways & bike transport services

Railways providing bike transport services:

First Railway: Grindelwald-Bort-Schreckfeld-First
Cable car Isenfluh-Sulwald
Schilthorn Railway: Stechelberg-Gimmelwald-Mürren
Wengernalp Railway: Lauterbrunnen-Wengen

Railways with limited bike transport services:

Wengernalp Railway: Grindelwald Grund – Kl. Scheidegg (from 5 pm) and Wengen – Kl. Scheidegg (from 4 pm)

Bike transport services in the valley:
Grindelwald Bus:

Grindelwald-Bussalp
Grindelwald-Waldspitz
Grindelwald – Gr. Scheidegg

Berneroberland Railways:

Grindelwald-Interlaken
Lauterbrunnen – Interlaken

Railway Lauterbrunnen-Grütschalp-Winteregg-Mürren

Bikeguiding

Guided tours starting from Grindelwald are available from mid-June until mid-September:

Bike shops, hire & service

Backdoor Shop
Bike hire and test centre as well as repair service
Internet Rent Network
Hire of mountain bikes, E-mountain bikes, children's bikes and children's trailers
Post an enquiry

Dear mountainbike-friend,

Thank you for your request. The request has already been forwarded to the hotel.The hotel will contact you directly regarding your holiday-wishes.

Kind regards,

Your "Mountain Bike Holidays" Team