Nauders am Reschenpass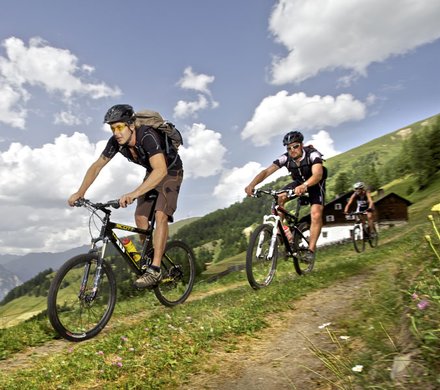 Mountain biking in Nauders at the Reschen Pass  
2.000 kilometres in length, 80.000 metres in altitude and three countries: The Cycle & Bike Arena around Nauders at the Reschen Pass is, without exaggeration, boundless and a real "fest for bikers". For all who want more!
Highlights of the region:
3-countries enduro trails powered by Alutech
3-countries Summer Card Gold Bike
3-countries bike and gondola tours  
3-country bike arena
Mountain biking is all about getting high up into the mountains, and you will find the best conditions for that in Nauders. 80.000 metres in altitude distributed across 2.200 kilometres of best forest, woodland and meadow paths create plenty of scope when planning a tour. There is something special for every type of biker, from beginner to extreme biker. Whether multi-day tours, a blue-marked family tour at Lake Reschen, a "red" three-countries tour with plenty of gravel beneath the tyres or a "black" three-countries tour with single trails through the Val d'Uina, via the Schlinig-Pass or Lake Schwarzsee. There is plenty of variety on offer.
Not only the positive press commentaries and reviews but also the "Approved Bike Area" award are proof that Nauders has the licence to bike. The region is currently very delighted to have received the award  "Approved Bike Area" in the category "Tour & Trail".
Biketouren - Nauders am Reschenpass
Bike Events - Nauders am Reschenpass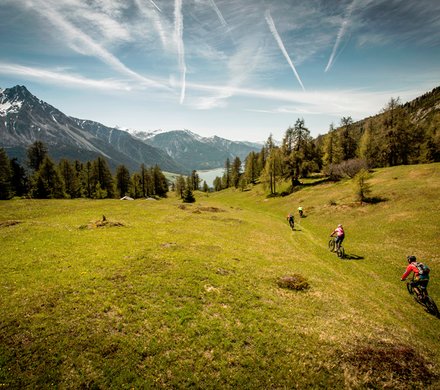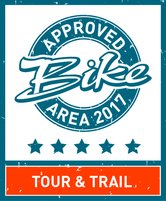 The trail paradise at Lake Reschensee lets the heart of trail enthusiasts beat faster. The tri-border trails offer technical passages as well as plenty of flow.
The signposting and the lift transport work perfectly, making it easy to access the vast network of tours.
Zur Approved Bike Area - Bewertung
The Mountain Bike Holidays Region Nauders was rated as follows:
| | |
| --- | --- |
| Preparation of information for mountain bike guests | 96 / 100 Points |
| Range of tours & trails provided in the region | 96 / 100 Points |
| Local infrastructure and services | 96 / 100 Points |
| Total score | 288 / 300 Points |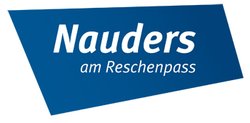 Nauders Tourismus
Dr. Tschiggfreystr. 66
6543 Nauders
Austria
+43 50 225 400
office@nauders.com
http://www.nauders.com
Post an enquiry

Dear mountainbike-friend,

Thank you for your request. The request has already been forwarded to the hotel.The hotel will contact you directly regarding your holiday-wishes.

Kind regards,

Your "Mountain Bike Holidays" Team