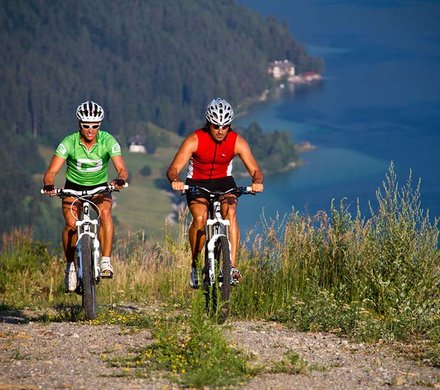 Lake biking in Carinthia
Happy bikers: MTB beginners, hobby sportsmen and women, summit conquerors as well as freeriders turn the southern side of the Alps into their playground in April already. They enjoy the unique combination of biking and swimming fun, beautiful lake panoramas and the regional Alpine-Adriatic cuisine. Carinthia's mountain and lake world convinces with its sunny Mediterranean climate, many swimming lakes and a variety of mountain bike tours: from hut to hut leads the tour on the Millstätter Alm for example. The three-country tour, starting at Lake Faak and Lake Ossiach, promises pure delight. Ideal for family bikers is Lake Wörthersee and the rare combination of bike & boat at Lake Weissensee. The meeting point of the freerider and downhiller scene is Carinthia's first bike park on the Petzen near Lake Klopein.
Tour tips for the 5 regions of Lake Biking Carinthia
Tour tips for the 5 regions
BIKE & TRAILS & BOOT
Colourful views to LAKE WEISSENSEE and LAKE PRESSEGGER SEE as well as a stop at rustic huts promise the bike tours in the stunning scenery of the Carnic and Gailtal Valley Alps. The combination of  "Bike & Boat" is recommended for the return journey!


ON THE TRACKS OF THE GARNET
The ruby-red precious stone indicates the direction of the most promising trails around LAKE MILLSTATT. Biking to the summit panoramas right to the Upper Tauern, chalets which invite to a delightful stop and racy single trail downhill runs are included.
MOUNTAIN BIKING IN THE TRI-BORDER REGION
The tours, starting from LAKE FAAK and LAKE OSSIACH, promise pure bliss and unforgettable views.  The tri-border bike tour offers crisp ascents and racy downhill routes and three countries on one day: Austria, Italy and Slovenia.
TRAINING AREA TECHELSBERG
The mountain bike route Techelsberg at LAKE WÖRTHERSEE is the ideal training area to prepare for Transalp & co. You will quickly find your rhythm on short but crisp ascents, gentle forest and meadow paths as well as on cool trails. Trails with very promising views to Lake Wörthersee.
EUROPE'S LONGEST FLOW COUNTRY TRAIL
Carinthia's first Trail Park with a 10 kilometres long Flow Trail is located near LAKE KLOPEIN at the border to Slovenia. Enduro bikers and downhillers enjoy here the absolute flow in 1.000 metres in altitude.


Biketouren - Lake biking in Carinthia
Bike Events - Lake biking in Carinthia
Post an enquiry

Dear mountainbike-friend,

Thank you for your request. The request has already been forwarded to the hotel.The hotel will contact you directly regarding your holiday-wishes.

Kind regards,

Your "Mountain Bike Holidays" Team