PUMP IT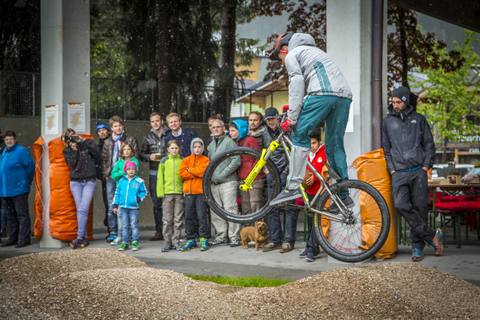 Neuer Pumptrack - Tauernhof in Flachau
Auf Euch wartet eine tolle Eröffnungsfeier am 23. Mai 2015 und dazu das passende 3:2 Special.
Sepp, der Sportcamp-Leiter im Tauernhof, hatte die Idee und schon kurz darauf fiel der erste Spatenstich zum neuen Pumptrack. Jetzt im Frühjahr wird noch das Feintuning vorgenommen, bevor die Strecke am 23. Mai 2015 feierlich eröffnet wird.
Ebenfalls am Bau beteiligt war Tony Kriesche. Schon beim Bau des Wagrainer Bikeparks war er mit im Boot. Beim Pumptrack im Tauernhof agierte er als Designer und hatte die Bauaufsicht unter sich. Ein Interview mit Sepp und Tony könnt Ihr Euch auf You Tube anschauen.
Am 23. Mai wurde die neue Anlage mit einem Eröffnungsfest gebührend gefeiert. Als Special Guest durfte Fabian Scholz, Teamchef und Entwicklungsingenieur des Focus Trail Teams, den Pumptrack als erster auf Herz und Nieren testen. Mit seinem coolen Showrace begeisterte er die Zuschauer. Anschließend gabs noch wertvolle Tipps vom Profi, wie man den Pumptrack spielend meistern kann. So konnte Jeder - ob Jung ob Alt, ob Anfänger oder Fortgeschrittener - sein Können unter Beweis stellen. Das zeichnet die Anlage beim Tauernhof auch aus, man muss kein Profi-Biker sein, um sie zu bewältigen.
Beim Grillbuffet wurde dann weiter fachgesimpelt und mit einer ausgelassenen Stimmung dem schlechten Wetter getrotzt. DJ Simon gab zudem noch richtig Gas und sorgte mit seinen coolen Beats für das perfekte Party-Feeling!
Tauernhof-Gäste dürfen sich diesen Sommer also auf eine weitere Attraktion freuen und ihre Technik auf der neuen Pumptrack-Anlage verbessern.
Be there and check it out!