Tour info
Watzmann-Hochkönig multi day bike tour
Southern Loop in 5 days
5 days/4 nights, approx. 168 km/4.875 metres in altitude
45–63 km / 1.355–2.900 metres in altitude daily
Coming from the Salzachtal Valley, you cycle through the Berchtesgadener Land along the massive limestone walls. Back in the Salzburgian region, the impressive Hochkönig comes into the range of vision. A stop at the cosy huts high above Maria Alm, Dienten and Mühlbach provides you with new energy before continuing your tour via Bischofshofen and Werfen back to Golling. Fascinating views across the beautiful landscape are guaranteed on the Watzmann-Hochkönig Tour!
Requirements:
The Watzmann-Hochkönig Tour is a stamina-challenging tour but not difficult physically. Plan some energy and focusing reserves especially for the last stage. The Watzmann-Hochkönig Tour is well signposted.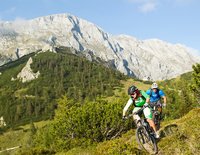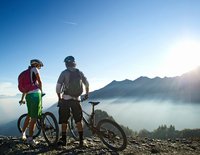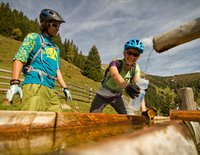 Route description:
1st Day: Individual arrival in Golling in the Salzburger Land
Golling in the Salzachtal Valley is the starting point of the tour. Room occupation and handing out of travel documents.
2nd Day: Golling–Ramsau/Hintersee, 60 km, 1.500 metres in altitude
You leisurely roll along the River Salzach to Hallein for the first few kilometres. From there the tour leads 1.000 metres in altitude uphill via Bad Dürrnberg to the Ahornbüchsenkopf. You catch some beautiful views across Berchtesgaden high up in the Hagen Mountains. Then it goes downhill at a racy pace to Lake Königssee.
Option for pros: Accomplished bikers turn in Golling into the Bluntautal Valley. The route up to the Upper Jochalm is easy to negogiate. This is followed by approx. 40 minutes carry time on a steep hiking trail. A racy downhill ride into Bavaria with a good view across Lake Königssee rewards all the effort. You come across the original Watzmann-Hochkönig Tour here.
The tour continues past the famous toboggan run of Königssee and leads then into the Ramsau to Hintersee at a leisurely pace.
3rd Day: Ramsau/Hintersee–Maria Alm, 45 km, 1.355 metres in altitude
The Watzmann-Hochkönig Tour leads into the beautiful Klausbachtal Valley. The route gently ascents up to the Engertalm and only gets a bit steeper again just before the Hirschbichl Inn. A beautiful downhill ride to Weißenbach near Lofer awaits you here. You reach Saalfelden quickly along the Tauern Cycling Trail where the route ascents for a further 500 metres in altitude before you arrive in the tranquillity of Maria Alm.
4th Day: Maria Alm–Golling, 63 km, 1.900 metres in altitude
When outdriven properly, the last stage is quite something. But you also can shorten the tour so that the day is easily managed. From Maria Alm you cycle across the Jufen at a leisurely pace. Reaching the Filzen Saddle, the eyes already wander to the skiing mountains of Dienten and Mühlbach which are to be conquered. Many alpine pastures invite for a break before you cycle downhill to Bischofshofen. The Salzachtal Valley Cycling Track guides you gently to Golling.
5th Day: Individual departure
Offer
Included services:
4 nights at 3-Star hotels
Substantial vitamin-packed breakfast every day
Luggage transfer from hotel to hotel from and to Golling (1 piece of luggage per person, max. 20 kg)
1 mountain bike map with detailed mountain bike tour description per room
Service hotline also at the weekend
Price per person &
stay 2016
Season A
16.04. - 22.04.
08.10. - 20.10.
Season B
23.04. - 30.04.
11.09. - 07.10.
Season C
01.05. - 10.09.


Double room
bed & breakfast
€ 329,00
€ 359,00
€ 379,00

Single room




bed & breakfast

€ 379,00
€ 409,00
€ 429,00
half board 
€ 68,00

€ 68,00

€ 68,00