Tour info
Südflucht – The multi-day mountain bike tour in Grisons
Intensively experiencing and full-scale biking through Grisons! On the Südflucht multi-day tour you cycle by mountain bike from Chur through rural Central Grisons, the alpine Engadin to the almost Mediterranean southern valleys Bergell and Puschlav. Your adventure starts with a comfortable individual arrival in Chur and a stay for one night. Here you have the opportunity to discover Switzerland's oldest town before going on the Südflucht Tour.
By the way: Ambitious mountain bikers take on the altitude metres and conquer them by mountain bike. Leisure bikers manage the altitude metres by post bus and the Rhaetian Railways.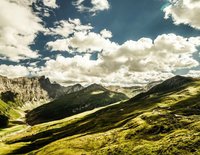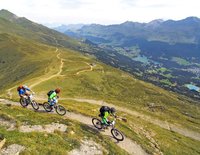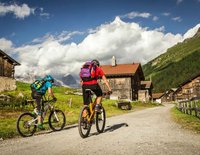 1st Day / Chur – Tschiertschen - Arosa – Tiefencastel – Savognin
50 Km / 2.500 metres in altitude uphill / 2.200 metres in altitude downhill
Your mountain bike is loaded onto a train of the Rhaetian Railways or the rack at the rear of a post bus. Depending on your personal fitness, you cycle to Tschiertschen or directly to Arosa. You cycle from Arosa in direction Carmenna Hut and continue uphill to the Hörnli and then to the Urdenfürggli. This is followed by 1.000 metres in altitude single trail downhill frenzy to Lenzerheide, Tschividains, Alvaschein and Tiefencastel. The knees still wobbly and completely overwhelmed from the fascinating impressions and experiences, you put your bike back on the rack at the rear of a post bus and take the ride back to Savognin. Overnight stay at the Hotel Cube in Savognin.
2nd Day / Savognin – Bivio – Bergell – Pontresina
55 Km / 1.715 metres in altitude uphill / 2.055 metres in altitude downhill
You follow the River Gelgia upstream in the morning. Then you climb the steep forested area, reach the road in direction Alp Flix and continue to Marmorera and Bivio by mountain bike or post bus. Muscle power is needed uphill to the Septimer Pass. Then you bike across the historic passage to Casaccia in Southern Switzerland with momentum and continue through the Bergell Valley into the picturesque Promontogno. The post bus takes you across the Maloja Pass to St. Moritz. Mainly downhill pedal power is needed through the Forest of Staz to Pontresina.
3rd Day / Pontresina – Bernina Pass – Poschiavo (– Chur)
40 Km / 680 metres in altitude uphill / 1.350 metres in altitude downhill
The third day of the Südflucht multi-day mountain bike tour begins with the stunning ascent to the Bernina Pass. The classic single trail downhill ride to Poschiavo crosses the railway tracks, which are part of the UNESCO World Cultural Heritage, several times. The Mediterranean town of Poschiavo with its Southern Grisons charm is waiting for you already! After a proper lunch, the Rhaetian Railways take you on the Bernina/Albula service back to Chur where your luggage is already waiting at the ticket counter.
Ready for the Südflucht multi-day mountain bike tour 2017?
Offer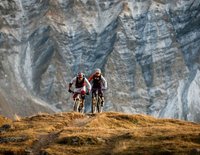 Inkludierte Leistungen: 

2 oder 3 Übernachtungen im Doppelzimmer mit Frühstück in ausgewählten Mountainbike-Hotels
(Hotel Sommerau *** in Chur, CUBE Hotel in Savognin, Sporthotel *** in Pontresina)
3 x Gepäcktransport
Tourenbeschreibung, Kartenmaterial und GPS-Daten
Termin: 10.06.2017 bis 09.10.2017
Richtpreis inkl. MWSt., exkl. Taxen, Änderungen vorbehalten:
ab 501,35 CHF pro Person im Doppelzimmer inkl. Frühstück für 3 Nächte