Hotel Gran Paradiso
Availability & book
Hotel info
Roland Ploner

Str. Pre de Vi 11

39030 St. Kassian / Alta Badia, Italy

+39 0471 849424

price from € 69 p.P.

Depending on type of room and board
Hotel Gran Paradiso

Roland is a passionate racing cyclist and mountain biker. He is a qualified bike guide and RotoPress as well as Born to Run trainer and happily shares his experiences. Daniel, also a guide, is a qualified road bike and MTB guide and sports masseur.

Bike hotel Gran Paradiso

Top in-house bike competence
GPS hire
RotoPress indoor training bikes

Specialised as bike hotel:

Bike-Highlights -Hotel Gran Paradiso

Route planning and advice
On-site insider tips from hotel manager Roland and Daniel
Perfect tours for teams of two to adjust the performance level: Mountain bike & also E-mountain bike
Advice on & creation of training programmes
In-house RotoPress and Born to Run trainer

Tour & Trail

Guided tours in different ability groups
Mountain bike hire in the hotel
GPS hire and tour downloads
Sellaronda HERO Tour

Bike-Highlights - Hotel Gran Paradiso

This bike hotel convinces with its elegance and unique character. The Ploner Family has been looking after their guests with typical Ladin passion, hospitality and dedication since 1968.

Family-friendly
Wellness area with sauna landscape
Tennis court & fitness room
Swimming pool with outdoor area for guests of all ages
X-Bionic Test Centre

Show all information

Sport as passion, hosts by vocation
The Ploner Family's enthusiasm for sports pervades through all generations. Success on national and international level in various sports seems to be on the daily agenda here. The family's enthusiasm is passed on to the guests. The bike hotel Gran Paradiso is the ideal place for your activity holiday with professional advice.

Although the focus is clearly on sports, there is plenty of room for pleasure and relaxation. Guests of this family-friendly hotel are looked after with remarkable hospitality and professionalism. Many years of experience and the Ploner Family's dedication as hosts have established the hotel as one of the best in the Alta Badia resort. You can witness the powerful natural spectacle of the Dolomites every evening in an elegant ambience which character is shaped by plenty of natural materials.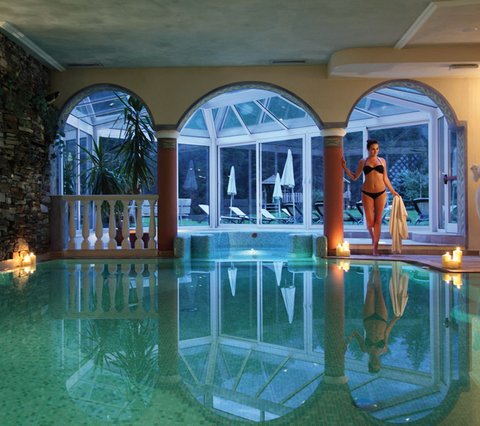 Hotel Gran Paradiso
One term that definitely doesn't apply to the Gran Paradiso: Boredom – there is simply no time for boredom on this holiday. The days here are spent according to the motto "Everything is optional but nothing is a must".
Bike & More - Hotel Gran Paradiso
Bike & Wellness
Wellness area with sauna landscape
Feel-good and sports massages
Swimming pool with outdoor area for everyone
The wellness area is also at your disposal on the day of departure
Bike & Sport
Red sand tennis court
Technogym fitness room
Stretching & Yoga with the Daniel
X-BIONIC Test Centre
e-MTB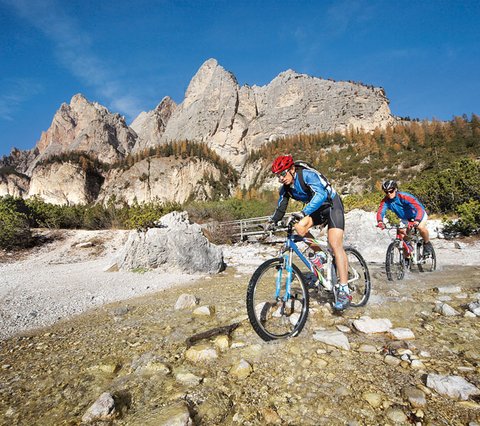 Alta Badia - South Tyrol - Italy
The Alta Badia region's stunning scenery, created by the pale mountains of the Dolomites, attracts countless nature lovers every year. The pristine natural landscape between the bizarre rock formations has been named UNESCO World Heritage – natural site for good reasons.
Bike highlights in Alta Badia:
Approved Bike Area
Sellaronda
Challenging tours
Picturesque natural landscape
Show all information
Whether biking novice or experienced mountain biker, every kind of biker will find the perfect tour on two wheels in Alta Badia. The leisure tour to the Ladin farmyards or the tours from village to village along the river provide fun for the entire family and MTB beginners alike. Anyone who likes it a bit more challenging, prefers a few more metres in altitude and doesn't mind breaking some sweat occasionally will find what they are looking for on tours like the one leading to the Holy Cross Church. Hardcore bikers can be found on the "hard trails". There is hardly any asphalt but many forest tracks and single trails on the Sellaronda Tour. Only recommended for those who already have managed some metres in altitude and are in top physical condition! The region's highlight is surely the Sellaronda tour. The Sellaronda Bike Day is staged twice a year. All four Dolomites passes are only open for bikers on those two days, and the scenery is especially enjoyable during this time.
The region is also known for its excellent tradition in the hotel and catering business which is maintained and passed on from generation to generation. With their language and thousand-year old traditions offer the Ladins, the inhabitants of those villages, hospitality of the special kind.
Mountainbike tour around the region Alta Badia