Feriendorf Kirchleitn
Availability & book
Hotel info
Fam. Schneeweiss

St. Oswald - Rosennockstraße 13

9546 Bad Kleinkirchheim, Austria

+43 4240 8244

price from € 92 p.P.

Depending on type of room and board
Feriendorf Kirchleitn

The hosts, Margit and Wolfgang Schneeweiß, are the on-site qualified bike guides. Bike pros from the Krainer Sports School are available as guides several times a week.


Bike village Kirchleitn

Bike school
Bike training obstacle course at the hotel
Single trail biking technique training, biking technique course, downhill training

Specialised as bike hotel:

Tour & Trail
Freeride & Parks
Easy & e-MTB

Bike-Highlights -Feriendorf Kirchleitn

Bike competence: Top qualified guides in the village and at the bike school
Weekly sunrise bike tour with Wolfgang Schneeweiß 
Daily guided bike tours with guides from the sports school and trails of all levels of difficulty
40 professionally devised tours with maps and GPS data
Family biking, children's parcourse & trainings
Bike cellar and on-site bike cleaning area

Tour & Trail

Offered tours: 6 guided tours in 2 ability groups
Weekly technique training with a certified bike guide
40 professionally devised tours with maps and GPS data
Bike training obstacle couse at the hotel
Mountain bike hire

Easy & E-MTB

Family biking
Weekly sunrise leisure bike tour

e-mountain bike hire

Bike-Highlights - Feriendorf Kirchleitn

The of chalets consisting village is situated in the middle of the biosphere reserve Nockberge Mountains in 1.350 m above sea level. Surrounded by nature and far away from any traffic, the adventure starts directly in front of the hotel.

Rustic Alpine apartments with modern comfort
You cater for yourself or use the services of our restaurants
Hotel-own blockhouse saunas
Fantastic family offers
Kärnten Card

Show all information

Real village life
The entire holiday village is a car-free zone and is therefore the ideal area for biker families with children. Parents can enjoy a really relaxing holiday when the kids are happy. Child care, natural water playground, pygmy goats and rabbits as well as a bio-swimming pond provide action whilst the parents are out on a biking tour.

The families meet up again in the fantastic Alpine apartments with their unique and very cosy atmosphere. The apartments are newly renovated and completely up-to-date. They are equipped with all amenities and provide modern, cosy comfort.
Enjoy the tasty regional menus if you don't want to cook on your holidays.

Use the blockhouse sauna with small wellness area if the biking tour hasn't made you sweat already. Refreshment afterwards provides the biotope pond.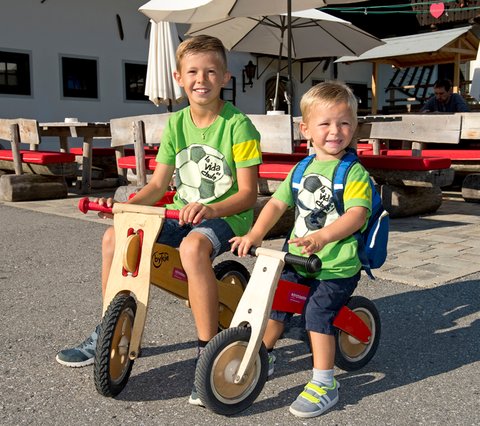 Feriendorf Kirchleitn
A fantastic alternative programme is provided for everyone who doesn't want to be on a bike all the time!
Bike & More - Feriendorf Kirchleitn
Bike & More
Village log cabin sauna open daily
Bike & Family
Childcare for children aged 3-12  
Half-day care for toddlers 3 times per week (1-3 years old) 
Children's MTB tours
Bike & Sport
The Kärnten Card with many free services is included
Hiking, golf, water sports
Bike & Baden
Biotope swimming pond with sunbathing lawn
2 thermae only 5 kilometres away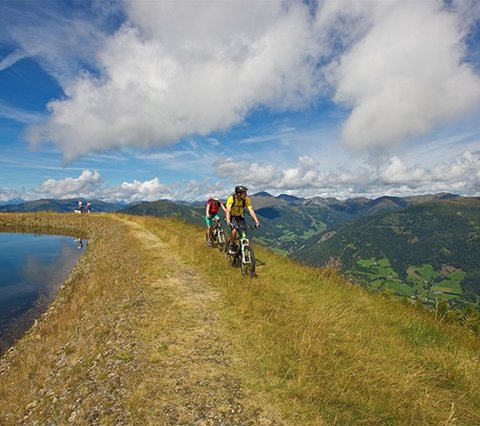 Region Bad Kleinkirchheim - Carinthia - Austria
In the middle of the Nockbike region: 1.000 km of cycling and mountain bike tracks, over 40 professionally devised tours, maps and GPS data for downloading, trails, forest paths, meadow downhill runs.
Bike highlights in Bad Kleinkirchheim
46 mountain bike tours
Summer mountain railways with transport for bikes
Family cycling track, leisure & e-biking
Alpine crossing
Kärnten Card
Show all information
Together & More – Bikers and landowners: In order to ensure that biking through woods and meadows can continue in a fair and good cooperation with the landowners, the use of all Nockbike routes has been renegotiated over the past months. In accordance with those agreements, there are new and improved signposts and further trails and tracks have been developed. Those innovations have been made in order to provide more comfort and diversity for bikers and, at the same time, to ensure the acceptance of this sport in the region. 700 kilometres of routes have been negotiated, approved and signposted.
The new Nock-Bike map is the map of the mountain bike and racing cycle region, has been available since spring 2015 and can be obtained from the bike hosts and the tourist office.

The advanced can race downhill across the Alter Almweg and dive into the 24˚C warm waters of Lake Feldsee or enjoy the thermal spa in Bad Kleinkirchheim afterwards. Anyone who prefers a more leisurely pace should opt for the tours around Lake Millstatt and take the Peter Pan bike ferry back to the starting point.
Daily guided tours for all ability levels, including shuttle and gondola service, can be booked at the Bike Competence Centre Krainer.
Mountainbike tour around the region Region Bad Kleinkirchheim