Excelsior Dolomites Life Resort
Availability & book
Hotel info
Fam. Call

Valiaresstraße 44

39030 St. Vigil / Enneberg, Italy

+39 0474 501036

price from € 103 p.P.

Depending on type of room and board
Excelsior Dolomites Life Resort

Hotel manager Werner Call himself is responsible for the bike competence in this hotel. He is a big biking fan and has been guiding the guests of his hotel through the biking region of the Dolomites for the past 15 years. Hans and Raimund are also part of the bike team. Both are certified guides of the Italian MTB Association. The team will take you to the most beautiful mountains, most amazing trails, the biggest waterfalls and the most romantic lakes at Kronplatz.

Bike hotel Excelsior

Top bike competence
Excelsior bike service package
Junior Bike Park at the resort

Specialised as bike hotel:

Tour & Trail
Easy & e-MTB

Bike-Highlights -Excelsior Dolomites Life Resort

Bike competence: Top qualified guides at the hotel
All-round service with the Excelsior Bike Service Package
Free bike hire directly at the hotel (mountain bikes, e-MTBs)
Best bike information about tours, stops for a break & attractions
Digital information, GPS data and map material for 50 tours
Unique programme with guided tours starting from the hotel and transfer tours for special bike adventures
Special bike & wellness offers

Tour & Trail

Offered tours: 5 guided tours in 2 ability groups
Digital information, GPS data and map material for 50 mountain bike tours

To the current offers >

Easy & E-MTB

Leisurely tour with Ladin specialities
e-MTB introduction and technique training every Monday (free of charge)
Monday - Friday: guided e-MTB tour (€ 47.00 incl. bike hire)
In-house e-MTB charging stations
Free of charge bike shuttle within the municipality
Free of charge use of buses in connection with the Summer Card

To the current offers >

Bike-Highlights - Excelsior Dolomites Life Resort

The Excelsior is situated 1.200 m above sea level in the middle of the Fanes-Senes-Prags Nature Park, an UNESCO World Heritage area, in a quiet location with views to the Dolomites. Enjoy the stunning panorama, the clean mountain air and the unique tranquillity!

Comfortable, stylish rooms and suites
The chef is one of Italy's bests, "WACS (World Association of Chefs Societies) MASTER CHEF"
Wellness & spa on 5 floors
Fitness & activity programme
Special offers for families

Show all information

Pure holiday pleasure
Located at the quiet outskirts of St. Vigil, the Excelsior resort is situated directly in the Fanes-Senes-Prags Nature Park in the Dolomites. The 49 lovingly and stylish arranged themed rooms and suites are elegantly, comfortably and modern furnished.

The Castello di Dolasilla, the wellness castle, presents itself across 5 floors. After long biking tours, guests get pampered and revitalised with various treatments here. The extensive wellness offer with 17 bath, sauna and relaxation facilities presents itself across a space of 1.300m².

The light Mediterranean-Alpine cuisine, a selection of 300 exquisite wines and the extensive leisure facilities in and around the resort complement the range of offers and make this location the perfect holiday destination.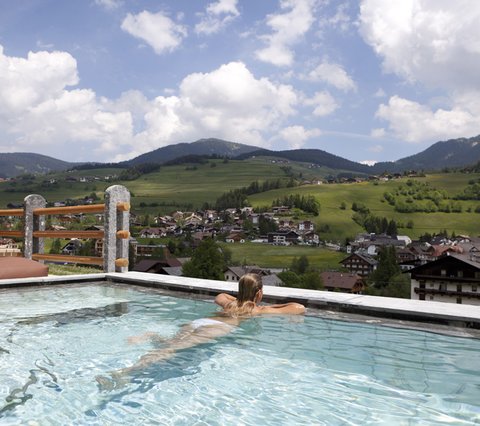 Excelsior Dolomites Life Resort
Mountain bikers and any companions who are not so keen on biking will be surprised by the alternative programme for bike-free days as well as before, between and after the tours.
Bike & More - Excelsior Dolomites Life Resort
Bike & More
100 % delighted guests on HolidayCheck & Tripadvisor
Bike & Wellness
Relaxation in one of the most beautiful wellness oases in the Dolomites
Our Beauty & Spa Castello di Dolasilla offers 17 different relaxation, aqua & sauna facilities on 1.300 m² across 5 floors
Bike & Family
Child care: 7 hours per day on 6 days per week during the main season
Children's playground, indoor play paradise
Children's swimming pool
Play and adventure park with tree house, climbing rope course, slackline and toy cable car
Kids Bike Programme: technique training, family tour, kids trail tour, freeride tour
At least 5 tours suitable for families and hire of children's bikes
Bike & Sport
Supervised fitness, activity & hiking programme in the Dolomites
Bike & Gourmet
Rino De Candido is one of the few Italian chefs who have been awarded the title "Master Chef" by the WACS (World Association of Chefs Societies).
One of the best chefs in Italy
Mix of Ladin recipes, South Tyrolean specialities and Mediterranean cuisine
Hotel-own wine cellar "Grotta del Vino" with 300 different wines
e-MTB
Free e-MTB hire directly at the hotel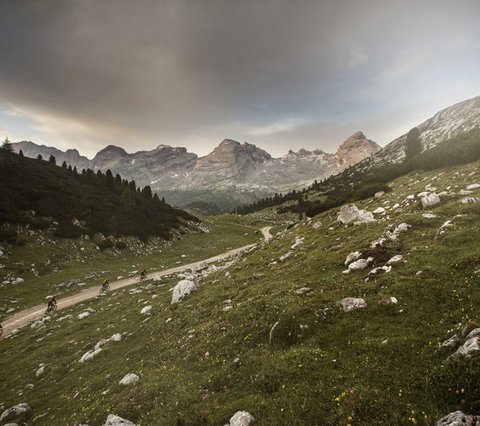 Kronplatz - Tauferer Ahrntal - South Tyrol - Italy
The variety and the experience of nature and emotions on trails, on paths through forests and meadows, on old military roads and smuggler routes across long-forgotten passes is unbeatable.
Bike highlights at the Kronplatz  
23 mountain bike tours
MTB Freeride Kronplatz
Summer mountain railways with transport for bikes
Stage location of the Transalp Challenge
Giro d'Italia
Show all information
Have you ever discovered a World Heritage site by bike or have taken the Stoneman Trail Dolomiti? No? Then off to the Kronplatz-Tauferer Ahrntal region. Countless tracks, exciting single trails, forest roads and paths through the woods criss-cross the Fanes-Sennes-Prags Nature Park which became an UNESCO World Heritage Natural Site in 2009, and is one of the most beautiful nature parks in the world. The diversity and the experience of nature and emotions on trails, paths through woods and pastures, old military roads and smugglers' trails across long-forgotten passes are unbeatable. Depending on the individual physical condition, the pedals are pushed either leisurely or sweat-inducing until the destination is reached. In this way, every tour becomes a unique experience with lasting emotions.
Mountainbike tour around the region Kronplatz - Tauferer Ahrntal