Hotel Traminer Hof
Availability & book
Hotel info
Fam. Pomella

Weinstraße 43

39040 Tramin, Italy

+39 0471 860 384

price from € 74 p.P.

Depending on type of room and board
Hotel Traminer Hof

The three bike guides Armin, Karl Platt and Uli are your contacts for anything about and around biking. True to the motto: "Downhill on tarred or forest roads is a pointless waste of altitude metres. We already bike when others are still stuck in the snow."

Bike hotel Traminer Hof

Bike hire
Weeks for pros and season start
New maps and tours

Specialised as bike hotel:

Tour & Trail
Easy & e-MTB

Bike-Highlights -Hotel Traminer Hof

Tour & Trail

Single trail tour, hairpin tour
Weekly mountain biking technique training
Bike camps with pros: Karl Platt, Daniel Federspiel, Thomas Litscher and the Rasenmähern 
100 hairpin bend tours
From steep road with obstacles to flowy natural single trail 

To the current offers >

Easy & E-MTB

E-mountain bike Fully and E-bike hire
countless easy & e-MTB tours
Guided leisure cycling tour with wine sampling surrounded by vineyards    
3-lakes tour with opportunity to go for a swim
WINEpass plus: all public transport + museums in South Tyrol free of charge

To the current offers >

Bike-Highlights - Hotel Traminer Hof

Surrounded by idyllic vineyards, this bike hotel is located directly at Lake Kaltern. This is the starting point for bike tours of all kinds. But alone the landscape and the culinary treats create pure holiday atmosphere!

Mediterranean Cucina Italiana
Adventure indoor pool and sauna landscape
Aroma shower, massage shower, heated bench
Kneipp basin and Feng Shui fountain
New panorama suites with air conditioning

Show all information

Feeling good at the Traminer Hof
This bike hotel in Tramin is a place where you simply feel good. Sweating on a bike -some times more, sometimes less - during the day, then refreshing in the lake or the hotel's indoor pool and enjoying the superb South Tyrolean cuisine accompanied by an excellent regional wine in the evening – this is how a day on your holidays at the hotel of the Pomella family could be and will be.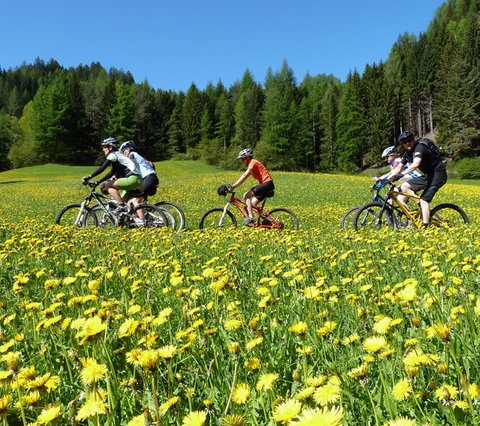 Hotel Traminer Hof
Bike pure at the Hotel Traminer Hof ****
The Traminer Hof is totally committed to cycling sports and everything revolves around the cleated tyres!
Bike & More - Hotel Traminer Hof
Bike & More
Finnish, Turkish and sauna with organic herbs
All buses, trains & museums in South Tyrol free of charge for our guests
Bike & Baden
Outdoor pool with sunbathing lawn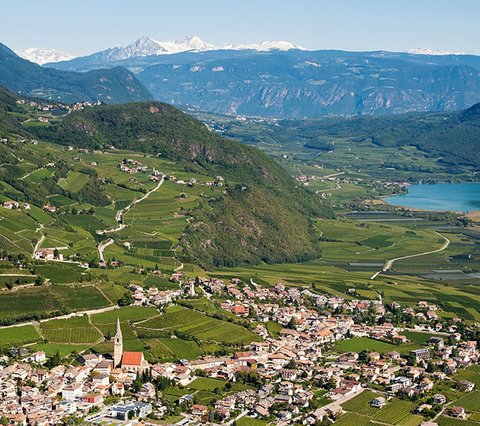 Tramin - South Tyrol - Italy
It already sounds very promising when the region of South Tyrol is called "Sun terrace of the Alps". Calling the south, the "warm Southern Tyrol", your home, means 315 days of sunshine per year and a XL bike season lasting from March until November!
Bike highlights in South Tyrol:
Single trails for miles
Ascents of the tougher kind
Leisurely tours around Lake Kaltern
Vineyards, colourful forests, tranquil lakes
Rugged mountain landscape and vast Alpine pastures
Show all information
In South Tyrol's sunny south around Lake Kaltern is the bike season longer than usual: namely from March until November. Tours through vineyards and blossoming apple orchards as well as on sunny high altitude trails make the start to the season perfect.
With the winegrowing villages Tramin, Kurtatsch, Margreid and Kurtinig in 220 metres in altitude and 90 kilometres away from Lake Garda, this is a not so well-known biking region in the south of South Tyrol. Situated directly along the South Tyrolean Wine Route, the area is blessed with a mild climate, olive trees, cypresses and palm trees. Boasting more than 300 days of sunshine per year, there is plenty of time to try the variety of biking possibilities. After the tour we chill in the old side streets and cellars with a glass of a good Gewurztraminer.
The highlight in summer is the sunrise tour at the Roen. A wonderful 360° panoramic view to the Dolomites, Brenta and the mountains of the Alps' main crest combined with a cliff edge of almost 2.000 metres in altitude make this tour an absolute must.
Mountainbike tour around the region Tramin