CUBE SAVOGNIN
Availability & book
Hotel info
The CUBE Hotels GmbH & Co KG

Veia Sandeilas 12

7460 Savognin, Switzerland

+41 81 659 1414

price from € 90 p.P.

Depending on type of room and board
CUBE SAVOGNIN

Here, with hotel manager Gerfried Gaugelhofer and his team, is the right place for sporty families.
Technique & guiding with fun, passion and coolness.

Bike hotel Cube

Ideal for family, easy & E-mountain bike tours
Directly next to the mountain railway
Merida Test Centre & Biking technique training

Specialised as bike hotel:

Bike-Highlights -CUBE SAVOGNIN

Bike competence: Top qualified guides at the hotel
All-round service & small freeride parcourse directly at the hotel
Ramps at the hotel: With the bike from the reception to the room
Showroom for storing bikes, directly in front of the room  
MTB Centre directly at the hotel

Bike-Highlights - CUBE SAVOGNIN

The architecture and design of the CUBE is square, modern, practical and simply flipping good - comfortable but in a different way! Holidays for the young & the young at heart - really cool and proper relaxing for everyone.

Functional 2 and 4 bed rooms as well as suites
Showroom for drying clothes and storing sports equipment in the front of the room
Chill out and relax areas
CUBE Club
Fitness area and gaming zone

Show all information

The right accommodation for every budget
Select a suitable room – 2-bed room, 4-bed room or the CUBE suite. They all consist of a comfortable sleeping area and the ever so popular showroom for drying clothes and safe storage for sports devices and equipment in front of the room.

Chill out areas in the lobby and on each floor, the gaming zone with game consoles, billiards, darts, pinball and table football, the sun terrace as well as the relax area with sauna, steam bath and resting zone provide rest and relaxation after a bike tour. Anyone with enough energy left can use the fitness area or visits the CUBE Club, the hotel-own disco.

The 24-hour bar serves snacks and drinks around-the-clock. Breakfast, lunch and evening buffet are provided in the self-service restaurant.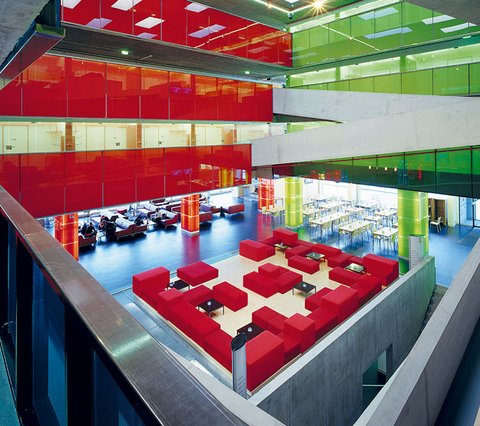 CUBE SAVOGNIN
Ideal for bikers, the Cube Savognin is located directly next to the lower terminus of the mountain railway and the swimming lake Lai Barnagn.
Bike & More - CUBE SAVOGNIN
Bike & More
Unconventional architecture and urban design
Relax area with sauna & steam bath,
Bike & Sport
Fitness area with state-of-the-art equipment
Weekly programme – programme with sports coordinator
CUBE Active - MTB and fun sport equipment hire, rope course and much more
Many indoor activities
e-MTB
Ideal for easy & E-mountain bike tours
Bike & Baden
Swimming lake directly at the hotel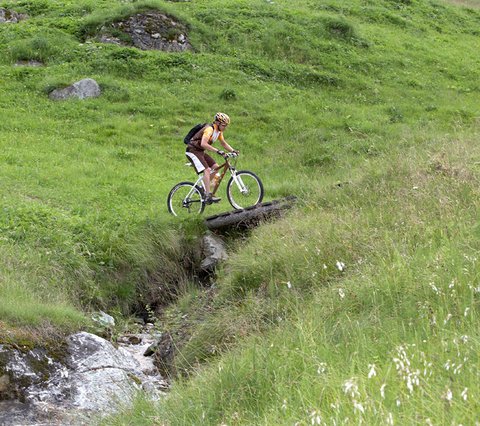 Savognin - Grisons - Switzerland
Flowing trails, fantastic gravel pistes and perfectly organised bike transport with shuttle, mountain railway or postbus make Switzerland's sunniest region the best place for biking and training.
Bike highlights in Savognin
Summer Card
29 mountain bike tours
Insider tip: fantastic trails
Bike transport
Free of charge: Summer mountain railway with transport for bikes
Show all information
The holiday region Savognin Bivio Albula is located in the Parc Ela, Switzerland's largest nature park. Flowy trails, a variety of natural roads and forest paths as well as perfectly arranged bike transport with bikers' and hikers' bus, mountain railways or postbus are a delight for leisure bikers and families as well as high-performance bikers. Biking is permitted on more than 800 km of designated biking routes as well as on hiking trails throughout the region. The selection of tours is vast and diverse. You can prepare tours perfectly and download all important information from the bike app of Graubünden Ferien (Grisons Holidays). The app allows you to check maps, elevation profiles and distance details anytime when out and about. The holiday region Savognin Bivio Albula is especially suitable for families. Children learn how a mountain bike works and how to use it safely at the Mountain Bike School for Kids. The supervised Pinocchio Club offers games, fun and adventure for all kids aged 3 to 12. The children can play and frolic around while the parents relax on a bike tour.
Mountainbike tour around the region Savognin