Kinderhotel Almhof Family Resort
Availability & book
Hotel info
Fam. Kammerlander

Gmünd 45

6281 Gerlos, Austria

+43 5284 5323

price from € 100 p.P.

Depending on type of room and board
Kinderhotel Almhof Family Resort

Bobby is a bike guide, manager of the Snowboard School Gerlos and is at home in the mountains. He knows the most beautiful routes and happily takes the guests on tour. With him is every bike tour an experience.

Bike hotel Almhof

Daily info-point with Bobby 
Biking technique trainings
Family tours

Specialised as bike hotel:

Tour & Trail
Easy & e-MTB

Bike-Highlights -Kinderhotel Almhof Family Resort

Info-point and top bike competence with Bobby
Biking technique trainings for beginners and the advanced
Special Family Tours: 400 metres in altitude, children from age 8 if accompanied
Single trail route from the Isskogel to Gerlos
Guided tours in various ability groups

Tour & Trail

Challenging trails: Gondola, shuttle and bus rides
Easy single-trails: 700 metres in altitude, for sporty bikers
Intermediate single trails: 1.000 metres in altitude, for trail enthusiasts
Summit conqueror: max. 1.500 metres in altitude, easy to intermediate trails

Bike-Highlights - Kinderhotel Almhof Family Resort

The bike hotel Almhof is located on the sunny side of Gerlos. The fantastic mountain world in the Tyrol and Salzburg border area offers the ideal scenery for a family biking holiday.

Traditional and modern Tyrolean style
All inclusive gourmet board
"Ecological Hotel"
Children's hotel with five Smileys
Gondola lifts Isskogel & Königsleiten included

Show all information

Bye mum, I am off to the Kids Club
Parents will hear this sentence quite often at the bike hotel Almhof. This family hotel has the perfect offer for families who want a bit more of everything. The witty and buoyant mentality of the hosts in combination with professionalism and competence reflects in every single staff member.

The Almhof has already received several awards for its fantastic guest services. For example, the hotel is certified to use the title "Ecological Hotel" thanks to the hotel-own mini-hydropower station and the pellets heating system. Regionality and fresh ingredients are also of great importance in the hotel's kitchen. Following the motto: "Good food and drink keep body and soul together" - the buffet serves naturally cooked delicacies from the kitchen almost around the clock.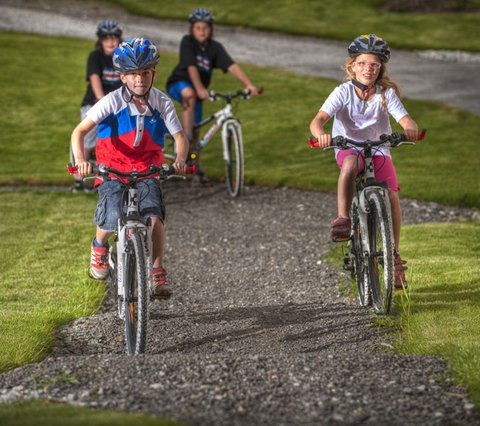 Kinderhotel Almhof Family Resort
The Almhof leaves nothing to be desired for children and their parents alike. The programme is just as diverse as the hotel's guests. Whether young or older, whether hungry for adventure or seeking relaxation – this family hotel always has the right offer for everyone.
Bike & More - Kinderhotel Almhof Family Resort
Bike & Wellness
Extensive wellness treatments
Adventure indoor pool, outdoor pool
Non-swimmer area & baby paddling pool
8 saunas (5 of them for adults only)
Massage & beauty treatments
Giant waterslide
Children's spa
Various resting rooms
Bike & Family
66 hours of child care per week (from the age of 6 months to 15 years of age)
Baby lounge
Fred´s Swim Academy
Hocus-Pocus Magician School
Action package for teenagers included (rafting, canyoning, high rope course, …)
Cinema & theatre
Bike & Sport
Guided hiking tours
Equipment hire
52 signposted running trails
Personal training with Lukas
Yoga, Pilates, bar bell training, fitness for the back
Fitness studio
Horseback riding at the Western Horseback Riding Centre Tyrol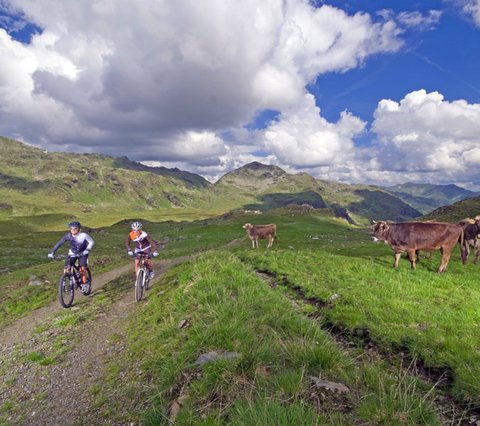 Zillertal Arena - Tyrol - Austria
Gerlos is situated on a high plateau in 1.250 metres above sea level. This location allows for amazing panorama tours in all directions. Many mountain huts and serviced alpine pastures within the 800 km network of cycling tracks wait for hungry bikers and hikers.
Bike highlights in the Zillertal Arena:
Leisure tour into the Schönachtal Valley

Single trail Zillertal Wiesenalm "Ride Able Project"
Alpine nature park
Show all information
This unique bike region stretches across the two federal states of Tyrol and Salzburg and isn't short of diverse tours and first-class panoramas. The cocktail of tours, from valley round trip to uphill routes in dizzy heights, surely offers every biker something that suits his or her performance aspiration. From simple gravel paths to technically challenging single trails, from the variety of alpine huts for stops to the possibility to take the bike uphill by mountain railway and bus - – the Zillertal Arena offers everything what bikers need.
The new single trails at the Isskogel with their diverse levels of difficulty promise variety for everyone. Less experienced bikers explore the easy trails and experts will find plenty of challenges on flowy trails with short difficult sections.  Every trail has its own specific characteristic and delights in its own special way.

The leisure tour into the Schönachtal Valley delights families and beginners, provides a good overview of the region and is a real scenic highlight. Anyone who prefers the more difficult routes with some sound metres in altitude and the odd sweat attack will get everything they wish for on tours into the Krumbachtal Valley, to the Isskogel or to the Hirschbichlalm.
Mountainbike tour around the region Zillertal Arena