Unser LOISACH Hotel.Sport.Charme.Geschichten
Availability & book
Hotel info
Fam. Rieder

Unterdorf 6

6631 Lermoos, Austria

+43 5673 23 94

Depending on type of room and board
Unser LOISACH Hotel.Sport.Charme.Geschichten

You simply have to take the bike guides from the Bike-Guiding Team into your heart. The guys are competent and yet very understanding and inspire the guests year after year. The attachment to their local roots and their excellent training are the perfect mix to make them the best bike guides.

Bike hotel Loisach

THE bike hotel location
Biking technique trainings and base camps
Test Centre

Specialised as bike hotel:

Bike-Highlights -Unser LOISACH Hotel.Sport.Charme.Geschichten

Top bike competence by the Bikeguiding Zugspitz Arena
Biking technique weeks with Stefan Schlie (end of July 2016)
Welcome with bike captain Georg to arrange all details
Women´s Bike Base Camp

Tour & Trail

Specialised Elite Shop Sport Nagele & electric power Haibikes 
Guided tours in 3 ability groups every day
Biking technique weeks
Blindseetrail & other single trails 
Freeride routes Grubigstein 

Bike-Highlights - Unser LOISACH Hotel.Sport.Charme.Geschichten

We are all humans at the Loisach – guests can feel that the minute they start their holidays here. Hosts Hillo and Karl Rieder create a welcoming and laid-back atmosphere. Sports – as the hotel's name already says – play an important part at the Loisach.

Menus suitable for sportsmen and women
Wellness area with indoor and outdoor pool
Personal service
Biker-hiker atmosphere

Show all information

Feeling at home at the bike hotel Loisach
Hillo and Karl Rieder are dedicated mountain sports enthusiasts and hosts. They offer holidays according to the motto: Summit bliss – Adrenalin kick – Wellness for the eyes. If those keywords get you into holiday mood then is this the right place for you.

The all-around service suits the bike hotel Loisach perfectly. Manageress Hillo can be seen everywhere in the hotel and even on the bike shuttle now and again. From the first phone call, continuing with the check-in and the perfect service on-site to the settlement of the bills, Hillo manages the small and not so small issues and is the good soul of the hotel. Manager Karl is in charge of the culinary excitement at the Loisach. He also happily spoils his sporty guests with vegan creations. If Karl is not in the kitchen then you will find him on any of the surrounding summits – enjoy an unforgettable guided hiking tour in Karl's company.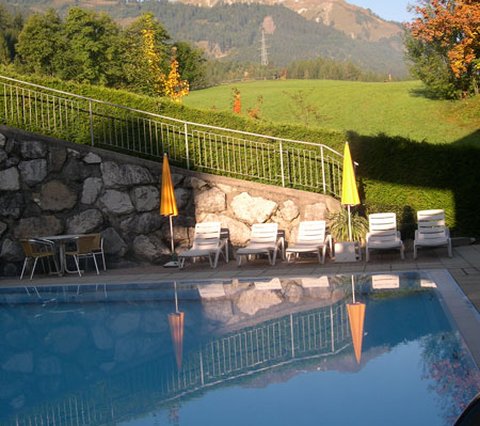 Unser LOISACH Hotel.Sport.Charme.Geschichten
You don't have to be on a bike all the time! Even if the heart belongs to the bike here, other sports activities are also at the forefront at the Loisach. The wellness area is the right place for a quiet break after a physical work-out.
Bike & More - Unser LOISACH Hotel.Sport.Charme.Geschichten
Bike & More
The biker meeting point per se in the courtyard, almost legendary 
Bike & Sport
Guided hiking tours with manager Karl
Special appointments for Yoga, Hike and Bike
Fitness room
Crystal clear mountain lakes nearby
Wellness area with various saunas, indoor and outdoor pool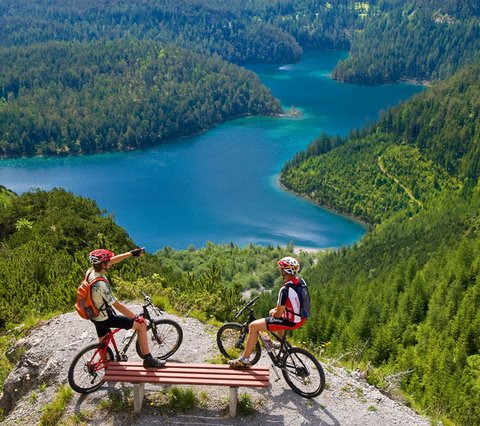 Tiroler Zugspitz Arena - Tyrol - Austria
The Tyrolean Zugspitz Arena is known as being one of the most popular regions amongst bikers. We can only confirm this and therefore have yet again certified the region as "Approved Bike Area".
Bike highlights in the Tyrolean Zugspitz Arena
100 bike tours with approx. 100.00 altitude metres
Approved Bike Area 2016
Bike Park Lermoos
Tours leading in all directions
Show all information
The Zugspitz Arena is a region that couldn't be more Tyrolean: Quaint villages, impressive peaks, crystal-clear mountain lakes, welcoming hosts and a true picture postcard paradise. The valley basin is open in all directions and therefore ideal for biking. Comfortable or spectacular? You decide for yourself how you want to discover the region's Tyrolean side of the Zugspitze by bike. Do you like steep tracks and like to accomplish as many metres in altitude as possible? Then you can select from a large number of challenging single trails in impressive mountain scenery far above the tree line. Or perhaps you are a MTB novice and only just started to discover biking? Then are the region's leisure tours just perfect for you. Or do you prefer a racier pace? Then is the freeride route Forest Thunder just what you are looking for. Jumps, ramps and banked curves offer an adrenalin kick in the "Approved Bike Area".
Mountainbike tour around the region Tiroler Zugspitz Arena