Hotel Rössle
Availability & book
Hotel info
Fam. Simma

Argenau 96

6883 Au / Bregenzerwald, Austria

+43 5515 2216

price from € 65 p.P.

Depending on type of room and board
Hotel Rössle

Bike guide Johannes has found his way to the Bregenz Forest when he fell in love with junior manageress Michaela. No mountain is too high and no trail is too steep for the former pro and manager of the local biking school. As a certified mountain bike guide and MTB technique trainer, Johannes is always at hand to provide help and advice.

Bike Hotel Rössle

Bike school, Simplon test ride centre
MTB technique training
Bike Park Au

Specialised as bike hotel:

Bike-Highlights -Hotel Rössle

Bike competence: highly qualified guides at the hotel and the bike school
Offered tours: 6 guided tours in 2 ability groups
Bike hire directly at the hotel and at the Shop-Partner, Liteville Testcenter
Service and repairs by our partners
Special Ladies' Camps

Tour & Trail

Biking technique training for young and old
Single trail tours
Themed tours (e.g. "Bike & Hike", "Bike & Sunrise", "Bike & Action")
Bike trailer for longer tours (1x weekly)
Cable cars with transport for bikes in close proximity

Bike-Highlights - Hotel Rössle

The bike hotel at the back of the Bregenz Forest is situated in a sunny basin in the middle of Au. The region's 15 tours of all levels of difficulties, from easy to challenging, across the landscape near Lake Constance are ideal for biking.

Comfortable feel-good rooms and suites
Bregenzerwald Guest Card

Show all information

Are you ready for a top-class bike hotel?
The large Simma family is the host at the bike hotel in the Bregenz Forest. The hotel scores with its family atmosphere and a successful combination of tradition and modernity.

Mountain bike tours, mountain hiking tours, an excursion to the forest rope course and to other outdoor activities like canyoning, rafting and climbing all start directly from the hotel just like the programme for bikers who enjoy cultural variety – the Schubertiade Schwarzenberg is just around the corner.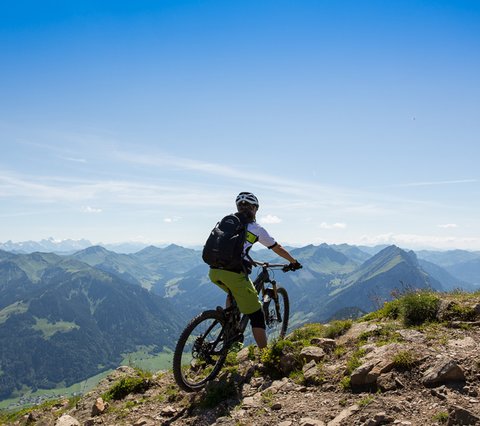 Hotel Rössle
The hotel provides a fantastic alternative programme for bike-free days and companions who don't like to bike.
Bike & More - Hotel Rössle
Bike & More
Large athletes´ table with flatscreen, GoPro access & maps
Free to you - 9 mountain railways, open-air pools and buses
Bike & Sport
Fantastic summer adventure programme (hiking tours, children's programme)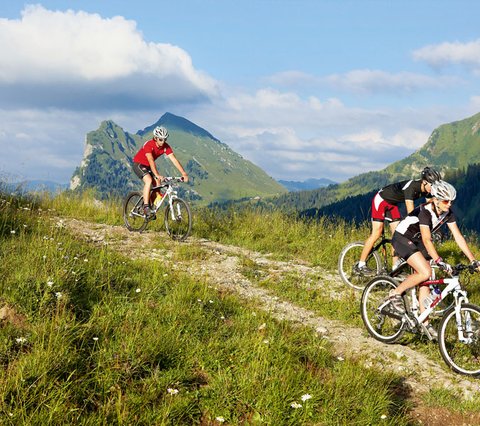 Bregenzerwald - Vorarlberg - Austria
Well-known for the Bregenz Forest Alpine Cheese, a speciality famous far beyond the country's borders, the landscape stands with its shapely combination of gentle hills, vast plains, romantic river valleys and mighty peaks.
Bike highlights in the Bregenzer Forest
Bregenzerwald Guest Card
15 Mountain bike tours
Bike Park Au
Bike transport on bus and train
Summer mountain railway with transport for bikes
Show all information
450 kilometres of designated tours of all levels of difficulties lead across the diverse landscape of the Bregenz Forest. Gentle hills, vast plains and romantic river valleys can be found as much as impressive peaks with long and challenging ascents. Cutting out some especially difficult parts of the route, some tours can be combined with free of charge rides on the gondola cable car. The superb panoramas with views across the surrounding peaks reach as far as to the neighbouring Allgäu, the Arlberg Mountains and the Silvretta Mountains. Technically challenging trails as well as a bike stop to sample the legendary Käsknöpfle (cheesy pasta bake) make a tour in the Bregenz Forest just perfect.
Mountainbike tour around the region Bregenzerwald