Hotel Edelweiss-Grossarl
Availability & book
Hotel info
Peter Hettegger

Unterberg 83

5611 Grossarl, Austria

+43 6414 300 0

price from € 107 p.P.

Depending on type of room and board
Hotel Edelweiss-Grossarl

The love for the Großarler mountain world and the passion for mountain biking ties us – the three-person bike guide team of the Hettegger family - together! We look forward to eventful bike tours to the Großarltal Valley's rustic and serviced alpine huts together with you.

Mountainbike hotel Edelweiss

160 km of signposted mountain bike routes
Guided mountain bike tours
Biking technique training

Specialised as bike hotel:

Tour & Trail
Easy & e-MTB

Bike-Highlights -Hotel Edelweiss-Grossarl

Bike competence: Top qualified guides at the hotel
Daybreak tour with hut breakfast "Towards the Sun"
Getting to know the traditional alpine life: 3 Almen bike tour
Free of charge bike hire directly at the hotel
Bike hire, service, repairs by our partners
Lockable garage with bike cleaning area & tools 
Free of charge laundry service for mountain bike clothes

Tour & Trail

160 km of signposted mountain bike routes (about 11.000 metres in altitude)
Offered tours: 6 guided tours in 2 ability groups
Hire of bikes from the partner shop (150 m away from the hotel)
Biking technique training

Easy & E-MTB

Hire of e-mountain bikes for a fee at the hotel
e-MTB charging station
6 guided easy tours per week
"Breakfast Tours" with return around 10:30 am leaves the rest of the day for other activities

Bike-Highlights - Hotel Edelweiss-Grossarl

The Hotel Edelweiss is situated in the middle of the Großarltal Valley, the valley of the alpine pastures. The family-run hotel is known for its warm and pleasant atmosphere. Despite its size, personal service for the guests is still a top priority at this hotel.

110 comfortable rooms
Edelweiss – delightful moments (gourmet cuisine)
185m² indoor pool
Sauna landscape
Children's playroom and child care

Show all information

Adventure bike holidays
Today's hotel manager Peter Hettegger has always dreamt of becoming a hotelier. He realised this dream by opening the EDELWEISS B&B in 1979. Back then, there were 14 guest rooms available. The coming years brought many building alterations until the small house had been turned into a large property, the Hotel EDELWEISS. What has remained from the start is the passion for the hotel industry and the family hospitality which can be felt throughout the entire house.

Cosy rooms and apartments in various categories offer a homely sleeping place and the kitchen treats the palate to delicious culinary delights. The hotel's Beauty and Vitality Residence is the best place to relax, rest and chill out. The large wellness area with indoor pool, whirlpool, sauna landscape as well as indoor and outdoor fitness facilities promote health and wellbeing.

The family hotel looks especially well after its youngest guests while their parents are out on a mountain bike tour.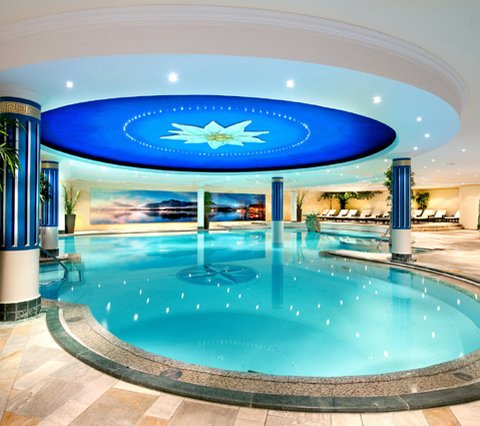 Hotel Edelweiss-Grossarl
There is a fantastic alternative programme for bike-free days and companions who are not so keen on biking.
Bike & More - Hotel Edelweiss-Grossarl
Bike & More
4*-Superior Activity Hotel, family-run by the Hetteggers
Large amount of included services
Bike & Wellness
2.200 m² swimming and sauna facility
EDELWEISS Beauty and Vitality Residence with many massage and beauty treatments
Bike & Family
Child care: every day from 9:00 am - 1:00 pm and 4:00 pm - 9:00 pm, open throughout in the main season
Children's playroom with cinema
Bike & Sport
Hiking programme
Fitness room
e-MTB
e-MTB hire for a fee at the hotel
e-MTB charging station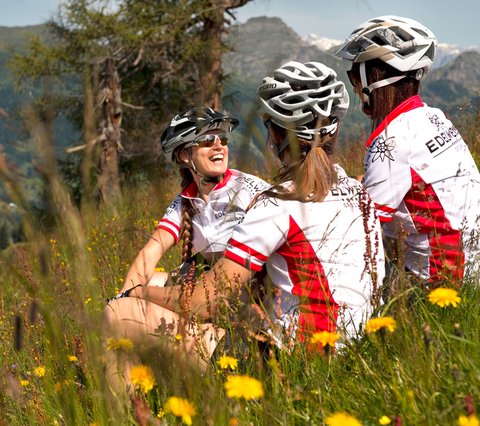 Grossarltal - Salzburger Land - Austria
The "Valley of the alpine pastures" is already well-known amongst hikers but it is still an insider tip for mountain bikers. 15 of the 40 serviced alpine pastures are accessible by mountain bike.
Bike highlights in the Großarltal Valley
16 mountain bike tours
Valley cycling track
Guided E-bike tours
2-day tour with overnight stay on the alpine pasture
Show all information
Are you looking for quiet, nature, relaxation, comfort and a piece of home? Then is the Großarltal Valley, situated in a fog-free alpine location and without any transit traffic, just perfect for you. The Großarltal Valley is the longest Tauern Valley in the Salzburger Land and nestles between the Upper and Lower Tauern. Its 13 small side valley with a total of 13.000 metres in altitude and around 140 km of signposted bike tracks offer tours of different lengths and gradients. One of the 40 serviced rustic alpine huts, giving the Großarltal Valley the name "Valley of the Alpine Pastures", waits at every destination. This makes connoisseurs just as happy as anyone who prefers aching muscles and honest sweat. And in addition, the valley is not crowded by bikers and is therefore an insider tip.
Mountainbike tour around the region Grossarltal