AlpenParks Hagan Lodge
Availability & book
Hotel info
Alexander Kalss

Lichtersberg 84

8992 Altaussee, Austria

+43 3622 72323

price from € 28 p.P.

Depending on type of room and board
AlpenParks Hagan Lodge

Host Alexander and his guide team deal with the guests' bike issues. They accompany you on guided tours or, if you want to take a tour on your own, always have an insider tip at the ready.

Bike hotel AlpenParks Hagan Lodge

Perfect supervision by the guide team
Bikers' regular's table
MTBs or E-bikes for hire

Specialised as bike hotel:

Tour & Trail
Easy & e-MTB

Bike-Highlights -AlpenParks Hagan Lodge

MTBs and e-MTBs for hire
1.000 km of marked MTB tracks
Attractive & sophisticated uphill & downhill routes    
Bike workshop, bike cleaning area, bike garage
Guided mountain bike tours
Bike corner & Regulars' table

Tour & Trail

Salzkammergut is an "Approved Bike Area" 2016
1000 km of marked MTB tracks
Well-developed forest roads bristling with crisp trails
Summer Card included

To the current offers >

Easy & E-MTB

Many charging stations in the vicinity
Guided e-MTB tours with the bike school
Summer Card included
e-MTB hire

To the current offers >

Bike-Highlights - AlpenParks Hagan Lodge

In the middle of the "Approved Bike Area" Salzkammergut ,situated directly at the Dachstein route, is the chalet village the perfect starting point for an unforgettable bike experience. The chalet village is also a very special setting for your bike holiday.

Show all information

A mountain bike holiday of a different kind
The village with its 46 chalets is a stunning place surrounded by nature. Anyone who has already spent their holidays here talks about an "oasis of tranquillity and relaxation". Some of the lodges even boast a private sauna. All chalets are equipped with a kitchen and cosy, comfortable living and sleeping areas.

If requested, the breakfast is delivered directly to the front door. You can also book your holidays with half-board or cater for yourself entirely. The swimming lake is only 10 minutes by bike away – what more does one want?!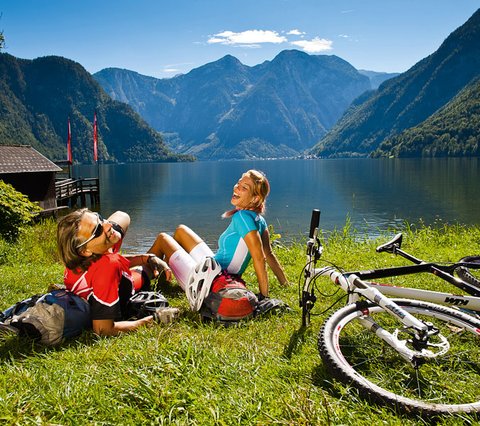 AlpenParks Hagan Lodge
There is no time for boredom in the chalet village. Plenty of variety without bike is provided for everyone.
Bike & More - AlpenParks Hagan Lodge
Bike & Sport
Climbing park and slackline parcourse
Flying Fox and

Power 

Swing

Extensive hiking opportunities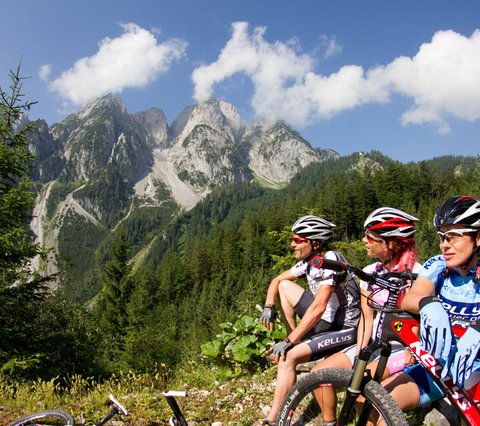 Salzkammergut - Upper Austria - Austria
Due to its high standards of quality is the Salzkammergut one of the "Approved Bike Areas". Bikers will find that nothing is left to be desired here. The motto in Altaussee in summer and winter is: Off into the mountains!
Bike highlights in the Salzkammergut
Summer Card (free for stays from three nights)
Many lakes & beaches
Approved Bike Area – high standards of quality
000 km signposted MTB tracks
Show all information
75 tours with a total of 1.450 kilometres and around 40.000 metres in altitude attract mountain bikers year after year. Bike feeling arises without further ado! The tours in this classic MTB region, which has been named "Approved Bike Area" – the only quality seal for bike regions – for many years, lead mainly across well-developed forest roads which are spiked with crisp trails. Blaa Alm tour, Hochmuth tour, Hoisnrad tour and Raschberg tour are among the classics of mountain bike tours in the Salzkammergut and are also a must in your tour repertoire. The World Championships in the past and the annual Salzkammergut Trophy also contribute to increase the high profile as well as the attractiveness of this bike region. A dive into cool waters after an extensive day of biking tells you that all the hard work is behind you.
Mountainbike tour around the region Salzkammergut