Sport&Wellness Hotel Cristallo am Levicosee
Availability & book
Hotel info
Familie Acler

Via G.De Vettorazzi 2

38056 Levico Terme, Italy

+39 0461 706 427

Depending on type of room and board
Sport&Wellness Hotel Cristallo am Levicosee

Junior manager Daniele has turned his hobby into his career. He provides you with first-hand tips and tricks. He has been biking in the valley and the mountains for more than 15 years and he will show you the most beautiful single trails and routes on his tours.

Bike hotel Cristallo

Workshop, test centre
4 brothers as bike experts
Also members of "Roadbike Holidays"

Specialised as bike hotel:

Tour & Trail
Easy & e-MTB

Bike-Highlights -Sport&Wellness Hotel Cristallo am Levicosee

Trek Test Centre with the latest models
Small bike park/technique parcourse at the hotel
Trail-motorbike assistance in cases of breakdowns and emergencies (due to special permit)
Underground car park with alarm and CCTV
Lavarone Bike Park 15 km away from the hotel

Tour & Trail

Guided tours 4 x a week
Biking technique courses
Workshop, bike shuttle, GPS tours
Hire of GPS devices

Easy & E-MTB

E-mountain bike hire at the hotel

Bike-Highlights - Sport&Wellness Hotel Cristallo am Levicosee

The hotel combines Alpine and Mediterranean influences. Situated in an ideal location, only a short walk away from the centre of Levico Terme and the lake, this bike hotel opened its doors more than 50 years ago.

Welcoming Italian hospitality
Trentino cuisine
Wellness area and swimming pool
Restaurant terrace

Show all information

Holidays suitable for sportsmen and women at the bike hotel Cristallo
The Hotel Cristallo team knows exactly what sportsmen and women need before, during and after training. The concept is designed towards holiday sports activities and the well-deserved relaxation afterwards. The ideal location between the Lagorai mountain range and Cima Vezzena peak ensures biking and leisure fun of a special kind.

The new wellness area and the new rooms and suites invite to stay at the hotel on days when the weather isn't so nice. The evenings are best enjoyed on the restaurant terrace and during the daily cheese tasting session with Sara. Fans of the Italian cuisine and hospitality and anyone who enjoys the "Dolce Vita" are well-looked after here.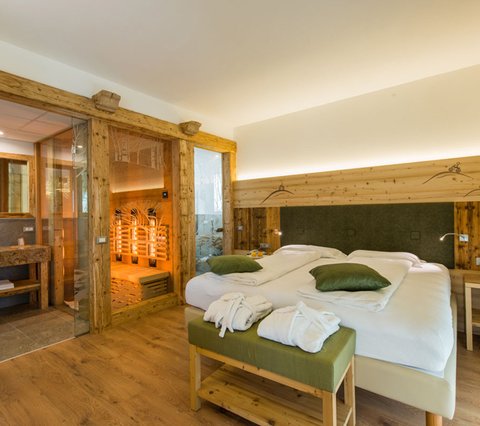 Sport&Wellness Hotel Cristallo am Levicosee
No pain, no gain: at least one would think so. You might almost feel a bit guilty if you take advantage of fantastic opportunities for relaxation without any physical workouts. But in true "Dolce Vita" fashion, we literally give relaxation-seeking holidaymakers a break!
Bike & More - Sport&Wellness Hotel Cristallo am Levicosee
Bike & More 
New superior rooms and suites made from handcrafted natural Swiss pine wood.
Possibility to have a shower on the day of departure
Bike & Wellness
New wellness area
Swimming pool and whirlpool
Bio-sauna with chromo-therapy, Finnish sauna and infrared cabin
Extensive range of massages
Kneipp facility
Bike & Sport
Fitness room
Hiking hotel
Climbing with climbing guide Peter Moser
Holiday packages for holidaymakers with dogs
Serviced Alpine huts and mountain huts for stops
Trekking with donkeys
Water sports
Bike & Baden
Swimming pool with whirlpool
Swimming in Lake Levico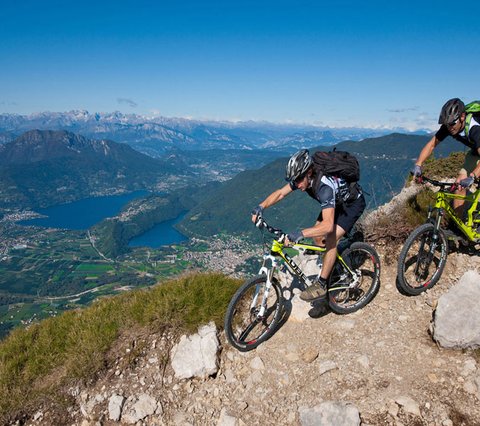 Dolomiti Lagorai Bike - Trentino - Italy
The mild climate allows for a very long biking season. And this is good since one holiday is by far not enough to discover all the region's biking opportunities in just one go – you will have to return a few times!
Bike highlights in Dolomiti Lagorai Bike:
Tours in up to 2.000 metres above sea level
Military single trails from WWI
Approved Bike Area
3 bike parks in the region
Long biking season thanks to the mild climate
Show all information
Valsugana, Val di Fiemme, Val di Fassa, San Martino di Castrozza and Val di Cembra in the eastern part of Trentino have merged and have become a unique mountain bike region which offers a diverse range of first class tours and panoramas. A cocktail of tours from rocky peaks in dizzy heights to lake tours in the valley offers every biker a suitable tour that matches the individual performance ambition.
The valley villages in the Val die Fiemme and in the Val di Fassa are situated in over 1.000 metres above sea level. Challenging single trails, rewarding panorama views, lifts with transport for bikes and the Bike Park Canazei characterise this part of the region. All requests and requirements of downhillers and the "wild things" are fulfilled here. The amazing views from the Val Venegia to the Pala Mountains and the rugged mountains of the Lagorai offer a very special feeling of freedom. The new San Martino Bike Arena with two routes is just perfect for downhill fans.
It doesn't take long to realise that the Valsugana is different. The most southern valley is situated in significantly less metres above sea level, enjoys a much milder climate and boasts therefore the longest bike season. Bikers feel especially good on the tours with view to the Lago di Caldonazzo and the Lago di Levico. The highest peaks accessible by bike are situated 2.100 above sea level here. Discover the Pinè Plateau in the Val di Cembra, the valley on the western side.
Mountainbike tour around the region Dolomiti Lagorai Bike