DolceVita Style & Spa Resort Lindenhof
Availability & book
Hotel info
Familie Nischler

Kirchweg 2

39025 Naturns, Italy

+39 0473 666242

price from € 133 p.P.

Depending on type of room and board
DolceVita Style & Spa Resort Lindenhof

Your host, Joachim Nischler, ensures that you are properly looked after, special tours and services during the XXL mountain bike season from March to November. Accompanied by experienced guides, conquer the most beautifal lakes, alpine meadows and viewpoints in South Tyrol. 

Bike hotel Lindenhof

TOP bike competence
Bike hire and technique training
Also a "Roadbike Holidays" member

Specialised as bike hotel:

Tour & Trail
Easy & e-MTB

Bike-Highlights -DolceVita Style & Spa Resort Lindenhof

Bike competence: hotel-own bike school
Ötzi Bike Academy & FOCUS / BERGAMONT Test Centre
MTB season opening with Urs Graf 2017
In-house MTB, racing cycle and E-bike hire
NEW: Naturns Nörderberg mountain – 80 km of trails and panorama tracks

Tour & Trail

Mon-Fri guided tours in 2 ability groups
Technique training on the hotel-own parcourse, also for children     
Weekly Stelvio Pass tour
Stelvio Pass Challenge
In-house MTB hire
Hire of bike locks and heart rate watches

To the current offers >

Easy & E-MTB

Special E-bike tours including landmarks
In-house eBike hire
50 well-marked E-bike tracks
eBike packages
2 x weekly, bike shuttle included
The cable car Unterstell (Naturns) and Aschbach (Rabland) takes you and your bike up to 1.300 m in altitude

To the current offers >

Bike-Highlights - DolceVita Style & Spa Resort Lindenhof

Situated in a beautiful sunny location, this bike hotel is nestled in the landscape of Naturns. With its location in 550 metres above sea level at the vertex of the Merano Region and the Vinschgau District, is the Lindenhof the perfect starting point for countless bike tours.

Design and gourmet cuisine
Beauty & wellness landscape with sky-sauna
Vineyard labyrinth
Care for children from 3 years of age
The romantic of starry nights – sleeping outdoors

Show all information

The favourite place for sporty design admirers and gourmets
The bike hotel Lindenhof has been run by the Nischler Family since 1972. Starting as a small B&B, the establishment was taken over by Joachim Nischler and, by adding innovative and creative ideas, has been turned into today's stylish and successful hotel. Combining tradition with modernity, Joachim Nischler also managed to preserve his father's legacy. The hotel is currently run by 3 generations of the Nischler Family.

Led by the Italian zest for life and the South Tyrolean sociability, the hotelier and his family make this bike hotel a very special place. The programme at the Lindenhof has been inspired by the passions and preferences of the hotel proprietors. They only offer activities and services which they are themselves enthusiastic about. And this makes everything in the hotel so genuine and convincing. In addition, top level standards are applied throughout the hotel!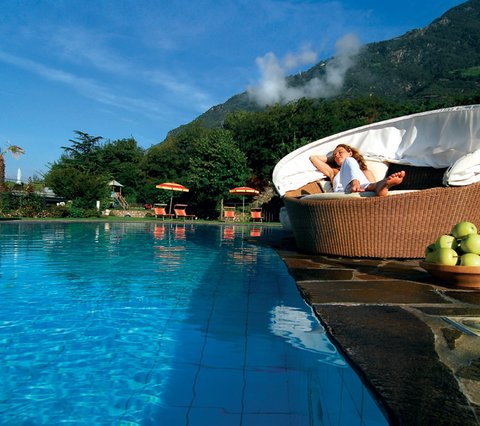 DolceVita Style & Spa Resort Lindenhof
Do you fancy more than just biking? No problem at the Lindenhof. A truly comprehensive offer for everyone is provided here.
Bike & More - DolceVita Style & Spa Resort Lindenhof
Bike & More
Unique: sleeping under the stars & Chef`s Table  
Bike & Wellness
Beauty & wellness landscape of the highest standard
3.500 m² garden with swimming pool   
360° sky-sauna
Revitalising massages
Indoor and outdoor swimming pool
Bike & Family
Child care: 8 hours per day on 6 days per week, 12 hours per day on 7 days per week from 4.7. - 26.9.2015 12
Summer youth programme
Daily children's menu with dishes suitable for children
Heated children's pool with slide
Children's playground
Bike & Sport
350 m² Fit & Fun House with personal trainer & nutritionist 
Fitness supervision on 6 days per week
2 x guided hotel hiking tours per week
Tennis court only a few minutes away from the hotel
Bike & Gourmet
Show kitchen
Gourmet a la carte menu in the evening
Vineyards in close proximity to the hotel
Vineyard labyrinth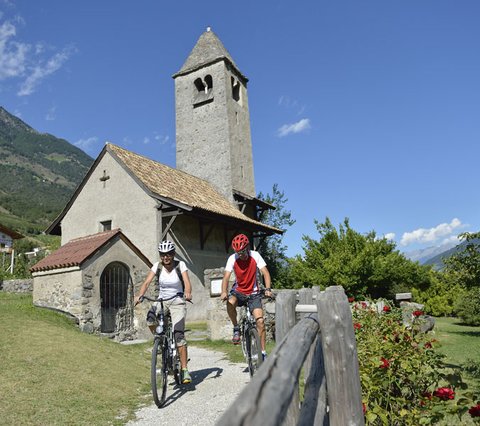 Vinschgau - Kalterer See - South Tyrol - Italy
The secret of this beautiful bike region lies in the 315 days of sunshine per year and the extremely long biking season which lasts from March until November. This region's diversity offers the terrain for all aspects of biking.
Bike highlights in South Tyrol
Crisp single trails
NEW: Naturns Nörderberg mountain
Leisurely cycling tracks in the Merano Basin
Bike park in Latsch
Show all information
Whether leisurely or sporty, bikers will find an attractive biking region between the Vinschgau District to the west and the Dolomites in the east. And the best thing is: 315 days of sunshine and a XL bike season from March until November provide bikers with plenty of time to discover the wide range of bike routes. Mild climate, great bike tours and culinary delights; South Tyrol has always been popular with bikers and that in every season.
Experienced bikers who are not scared of heights will feel especially at home in the Vinschgau District where tours in more than 1.000 metres of altitude are the norm and not the exception. A hot tip for all kinds of bikers is the Latsch Sonnenberg. Apart from the really narrow tracks, there are also great trails for less experienced bikers. In addition, there is also a cable car that provides transport for bikes.
Mountainbike tour around the region Vinschgau - Kalterer See