Alpen-Comfort-Hotel Central
Availability & book
Hotel info
Familie Ploner

Unterdorfweg 196

6543 Nauders, Austria

+43 5473 872 210

price from € 47 p.P.

Depending on type of room and board
Alpen-Comfort-Hotel Central

Hobby or job? It is great when both can be combined! Harry´s & Gerry´s passion for biking is contagious & even infects the guests of the Hotel Central. Tours & trails are merged in Nauders.

Bike hotel Central

Top bike competence
3-Country Bike Arena A - I - CH
Biker's playground & Biking technique training

Golden-Bike-Card

Specialised as bike hotel:

Tour & Trail
Freeride & Parks

Bike-Highlights -Alpen-Comfort-Hotel Central

Bike competence: Top qualified guides at the hotel
NEW: 19 "handmade" nature trails  - accessible by cable cars
Biker's playground: Hotel-own practising area
Offered tours: 6 guided tours in 2 ability groups
Hire bikes arranged by the hotel
Daily tour round-table, personal tour advice
All tours start from the hotel (no need for transfers)
Tour highlight: Val d'Uina, Val Mora, Val Sinestra, Goldsee Trail

Tour & Trail

Boundless biking pleasure in the tri-border region and biking area A, I, CH
Biking technique intensive course and personal bike guiding in the hotel-own practising area
Guided tours with weekly highlight tours
GPS tours
Tours lasting several days: XXL Three-Country tours

Freeride & Parks

3-countries enduro trails
Stage location of the European Enduro Series 2016
Single Trail/Enduro Week with Gerry (eponym of the Gerry Trail)
Biking technique trainings for everyone (in groups or individually) with video analysis
Hire of protective pads included in offers and technique trainings
Hotel-own practicing area "Biker´s Playground"

Show all information

The charm of times gone by combined with the comfort of today
The Four-Star Hotel Central offers the ideal ambiance for biking, relaxing and indulging. Cosy rooms, the Tyrolean hospitality of the Ploner family, who have already been running the hotel for three generations, and their extensive experience make your holiday very special.

The panorama windows in the rooms and suites provide an amazing view across the Nauder mountain world. Valuable local materials, a harmonic colour scheme and plenty of light provide a special feeling of wellbeing.
Whether in the 400 years old public room, in front of the open fire or in the stylish dinning halls, you can feel the calm, comfort and tradtion of this house everywhere.

A wonderful world of relaxation offer the 500m² of the Central wellness oasis: Feel the pleasant warmth of the sauna, inhale the scent of mint in a steam bath, float on water or put yourself into the experienced hands of a masseuse.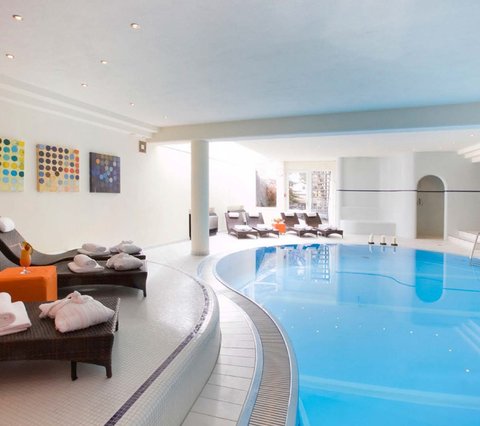 Alpen-Comfort-Hotel Central
Bike & More, the additional offer at the Hotel Central for all bikers who want more than just biking.
Bike & More - Alpen-Comfort-Hotel Central
Bike & More
Free WiFi access throughout the entire property
Press: "The Central is one of the most popular bike hotels."
Bike & Wellness
500 m² Wellness oasis with indoor pool, finnish & organic sauna, steam bath
Wellbeing and sports massages
Teas & fruit juices in the wellness area
Bike & Sport
Guided Nordic Walking and hiking tours
Climbing garden
Rafting
Running tracks
Wind & kite surfing region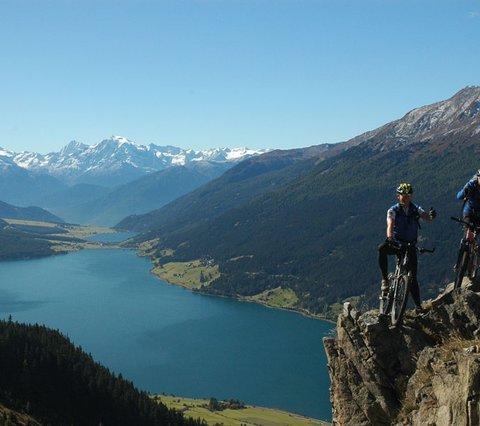 Nauders am Reschenpass - Tyrol - Austria
Well-known for the Bregenz Forest Alpine Cheese, a speciality famous far beyond the country's borders, stands the landscape with its shapely combination of gentle hills, vast plains, romantic river valleys and mighty peaks.
Bike highlights in Nauders
Summer Card
80 mountain bike tours
Three-Country tours
NEW: 3-Country enduro trails
Summer mountain railways with transport for bikes
Show all information
Mountain biking is all about getting high up into the mountains, and you will find the best conditions for that in Nauders. 80.000 metres in altitude distributed across 2.200 kilometres of best forest, woodland and meadow paths create plenty of scope when planning a tour. There is something special for every type of biker, from beginner to extreme biker. Whether multi-day tours, a blue-marked family tour at Lake Reschen, a "red" three-countries tour with plenty of gravel beneath the tyres or a "black" three-countries tour with single trails through the Val d'Uina, via the Schlinig-Pass or Lake Schwarzsee. There is plenty of variety on offer.
The 3-Countries Summer Card GOLD BIKE, including transport of bikes on the mountain railways, is now available to all bikers for 3 days at € 55.50 and for 6 in 7 days at € 85.00 (prices subject to change.)
Not only the positive press commentaries and reviews but also the "Approved Bike Area" award are proof that Nauders has the licence to bike. The region is currently very delighted to have received the award  "Approved Bike Area" in the category "Tour & Trail".
Mountainbike tour around the region Nauders am Reschenpass