Hotel das Paradies
Availability & book
Hotel info
Familie Pirhofer

Quellenweg 12

39021 Latsch, Italy

+39 0473 622 225

price from € 106 p.P.

Depending on type of room and board
Hotel das Paradies

Host Georg Pirhofer himself is a passionate mountain biker and a qualified bike guide. He accompanies his guests across the trails as often as he can.

Bike hotel Paradies

Top bike competence
Over 200 possible bike tours start directly from the hotel
Unique downhill trails with more than 1.400 metres in altitude

Specialised as bike hotel:

Bike-Highlights -Hotel das Paradies

Bike competence: Top qualified guides at the hotel
Offered tours: Guided tours on 7 days of the week
Free hire of GPS devices and recommended tours for download
Free hire of hard tails and city bikes; fullies and racing cycles for a fee

Tour & Trail

Guided tours on 7 days every week
Free of charge GPS device hire and tour suggestions for download

To the current offers >

Bike-Highlights - Hotel das Paradies

Surrounded by orchards, the Paradies is situated in a quiet location in Latsch, only 20 kilometres away from Merano. A multi-faceted leisure and activity programme directly in front of the hotel awaits you.

Individually furnished rooms and suites
2 Gault&Millau Toques and 16 points
Leading wellness facility in South Tyrol
Children's & teenager programme daily
Extensive outdoor programme

Show all information

The Five-Star holiday experience in South Tyrol
The hotel, surround by apple orchards and located at the base of mighty glaciers, is run by the third generation of the Pirhofer Family. Just like the aim to provide their guests with a unique 5-Star holiday experience, warmth and dedication are the order of the day - every day. The Hotel Paradies is known as one of the most exclusive hotels for mountain bikers and racing cyclists in South Tyrol. But families and wellness enthusiasts are also 100% won over.

The exclusive ambience, the stylishly designed facilities, the 5.000 m² of the garden landscape, the gourmet cuisine and an extensive selection of more than 350 wines provide relaxation pure.

An area of 2.000 m² offers wellness pure: Pools, various saunas, tranquil relaxation zones, massages and the exclusive La Vita Spa including innovative beauty treatments with high-quality products from the hotel-own bio-certified cosmetic range "Berg".
Professional child minders provide a diverse animation programme with a colourful mix of fun and games for the kids on a daily basis so that the parents can enjoy the hotel's entire luxury.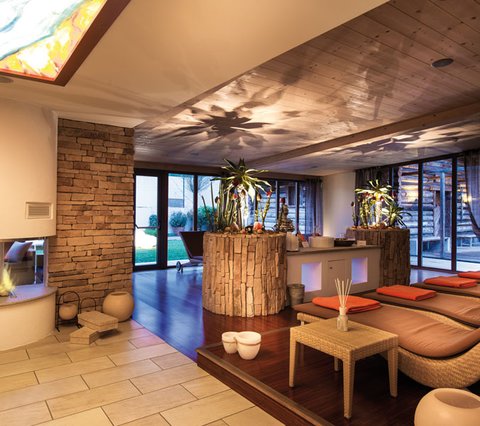 Hotel das Paradies
Enjoy informal biker atmosphere and 5-Star luxury! The "Bike & More" programme at the Hotel Paradies provides variety on bike-free days. 
Bike & More - Hotel das Paradies
Bike & Wellness
2.000 m² Paradies wellness: Pools, relaxation, sauna with Aufguss
LaVita Spa: International award-winning team for beauty treatments and massages
Bike & Family
Child care: 8 hours per day on 6 days per week
Additionally in July and August: 10 hours per day on 7 days per week
At least 5 tours suitable for families as well as hire of children's bikes
Bike & Sport
Fitness: Daily programme with qualified trainer
Bike & Gourmet
Paradies – 5-Star gourmet board with live cooking station and gourmet menus from the Toque cuisine
2 Gault&Millau Toques and 16 points
e-MTB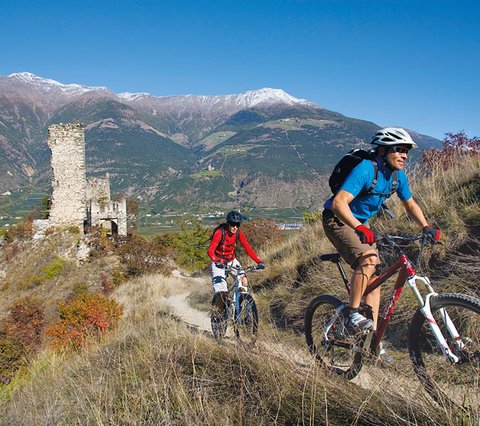 Vinschgau - Kalterer See - South Tyrol - Italy
Boasting 315 days of sunshine every year and with an XL bike season from March until November, bikers have plenty of time to discover the variety of bike trails.
Bike highlights in the Vinschgau District    
80 GPS mountain bike tours
Biking skills parcourse  
Stelvio Pass National Park
Via Claudia Augusta
Summer mountain railway with transport for bikes
Show all information
Whether leisurely or sporty, bikers will find an attractive biking region between the Vinschgau District to the west and the Dolomites in the east. And the best thing is: 315 days of sunshine and a XL bike season from March until November provide bikers with plenty of time to discover the wide range of bike routes. Mild climate, great bike tours and culinary delights; South Tyrol has always been popular with bikers and that in every season.
Experienced bikers who are not scared of heights will feel especially at home in the Vinschgau District where tours in more than 1.000 metres of altitude are the norm and not the exception. A hot tip for all kinds of bikers is the Latsch Sonnenberg. Apart from the really narrow tracks, there are also great trails for less experienced bikers. In addition, there is also a cable car that provides transport for bikes.
Mountainbike tour around the region Vinschgau - Kalterer See