Nockbike-Center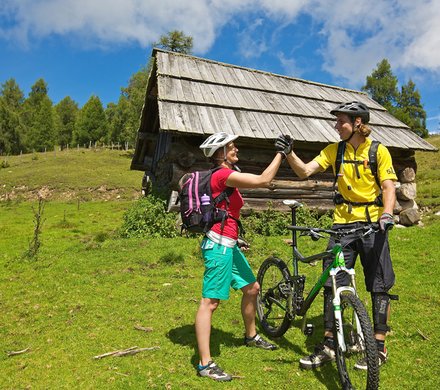 Competence – Safety – Adventure – Fun – Insider Tips
Whether bike novice, family biker, summit conqueror or mountain bike freak - the mountain and lake world south of the Alps' main ridge delights with panorama views across the whole of Carinthia. The Nockbike Centre offers from the beginning of May until October at least 15 guided tours for various groups of ability per week. Personal training and trail camps are as much on the agenda as family biking and E-bike adventure tours. Anyone who isn't worn out after biking can burn off the remaining energy whilst kayaking or sailing!
Nockbike Centre services:
Season from beginning of May until October
Professional organisation and guides
At least 15 tours per week, various groups of ability
Sport Card/bike taster sessions for beginners and sailing, surfing, kayaking etc. after biking
Trail training/biking technique workshops
Personal training, family biking
E-biking adventure tours
Nockbike shuttle service
Equipment advice/hire, repair service
Bikers' get-togethers, Nockbike info with tour advice, tips around biking etc.
Bike packages-events-incentives
Tour scouting and further advancement of the Nockbike region
School sports weeks
Biking technique and trail camps
Show all information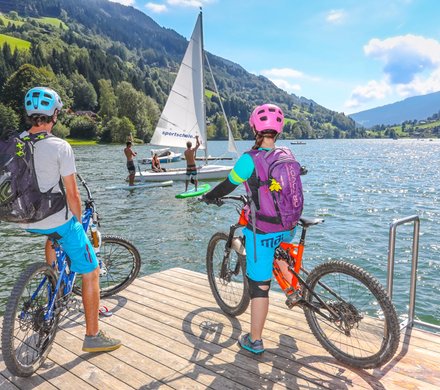 Mountain biking in the Bad Kleinkirchheim region
Bike beginners and ambitious bikers are magically attracted to the interconnecting forest paths and idyllic tracks through woodland, the natural and root-traversed trails, the Kaiserburgbahn as aid for the ascent as well as the rustic alpine huts.
Highlights of the region:
Young Rocket Bike Camps for kids and teens
Region' card with many bike services 
Summit cross trail Lake Dreiklang
Area-covering E-mountain bike hire, E-MTB tours for all ability levels
Together & More – Bikers and landowners: In order to ensure that biking through woods and meadows can continue in a fair and good cooperation with the landowners, the use of all Nockbike routes has been renegotiated over the past months. In accordance with those agreements, there are new and improved signposts and further trails and tracks have been developed. Those innovations have been made in order to provide more comfort and diversity for bikers and, at the same time, to ensure the acceptance of this sport in the region. 700 kilometres of routes have been negotiated, approved and signposted.
The new Nock-Bike map is the map of the mountain bike and racing cycle region, has been available since spring 2015 and can be obtained from the bike hosts and the tourist office.

The advanced can race downhill across the Alter Almweg and dive into the 24˚C warm waters of Lake Feldsee or enjoy the thermal spa in Bad Kleinkirchheim afterwards. Anyone who prefers a more leisurely pace should opt for the tours around Lake Millstatt and take the Peter Pan bike ferry back to the starting point.
Daily guided tours for all ability levels, including shuttle and gondola service, can be booked at the Bike Competence Centre Krainer.
Show all information